Acer wants to be number 3
Acer Inc, the world's fourth-largest computer maker, will continue promoting its desktop-computer business next year in a bid to become the No. 3 player in the market by 2007, company executives said yesterday.
The company aims to ship around 7 million desktop computers next year, around 4 million units more than this year, and hit the 10-million mark in 2007, Scott Lin (林顯郎), president for Taiwan and Hong Kong operations, told reporters at a product launch yesterday.
"We have been dedicating more resources to notebook products in the past three years and have now established a name in markets worldwide. Therefore, we want to put a greater emphasis on our desktop lineup next year," he said.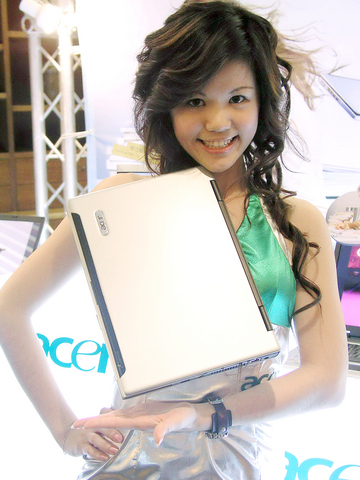 A model presents Acer's new TravelMate 3300 laptop at a product launch in Taipei yesterday. This lightweight notebook, which weighs just 2kg, hangs from the model's hair.
PHOTO: CHOU YI-CHUN, TAIPEI TIMES
While most brandname vendors are gearing up for a slice of the highly competitive notebook market, it will be a good chance for Acer to keep a balance between the desktop and laptop segments, with both offering similar margins, Lin said.
Citing local surveys, he added that 84 percent of desktop users who assemble their own computers do so to save money, while the rest are enthusiasts. Therefore, Acer will introduce branded desktops based on the do-it-yourself principle to capture a bigger market share, he added.
Statistics from market researcher International Data Corp released last month indicated that worldwide computer shipments jumped 17 percent in the third quarter on better-than-expected sales of notebooks and low-cost PCs.
The top three vendors were Dell Inc, Hewlett-Packard Co and Lenovo Group Ltd (聯想), with market shares of 18 percent, 16 percent and 7.7 percent respectively.
Acer, ranked fourth with 4.7 percent, has set a target to outpace China-based Lenovo to become the No. 3 player within the next two years.
Eyeing the growing computer demand, the company launched a slew of desktops and portable computers yesterday.
With prices starting as low as NT$20,000 (US$594), its Veriton 2800 series is a range of customized desktop computers geared toward business users. The Aspire L300 series, priced below NT$45,000, will target the digital home segment.
The new TravelMate 3300 and 3230 are 14.1-inch notebooks weighing 2kg or less that offer business users functionality such as Bluetooth capability and a DVD burner.
Acer reported local sales amounting to NT$6.3 billion in the third quarter, representing 78 percent growth over a year ago. Its shares were up NT$0.30, or 0.4 percent, to close at NT$72.80 on the Taiwan Stock Exchange yesterday.
Comments will be moderated. Keep comments relevant to the article. Remarks containing abusive and obscene language, personal attacks of any kind or promotion will be removed and the user banned. Final decision will be at the discretion of the Taipei Times.