Banks issue toll-road cards
Long queues waiting at toll booths will soon be a thing of the past as Taishin International Bank (台新銀行) and Far Eastern International Bank (遠東商銀) yesterday announced that they will issue multi-functional credit cards allowing motorists to use highways without having to stop at booths to pay the toll.
Targeting the nation's more than 6 million drivers, the two lenders expect to issue at least 1.15 million cards respectively within two years, as specified in contracts they signed with Far Eastern Electronic Toll Collection Co (遠通電收), contractor for the nation's first electronic toll-collection system.
The co-branded integrated circuit (IC) credit cards feature an electronic-wallet (e-wallet) in their chips, which enable cardholders to upload value before hitting highways. Consumers can add value to a maximum of NT$10,000 (US$306) at more than 4,000 places nationwide, including four convenience store chains (FamilyMart, Hi-Life, OK and Nikomart), Formosa Petrochemical Corp (台塑石化) gas stations and the 21 rest stations along highways, the banks said.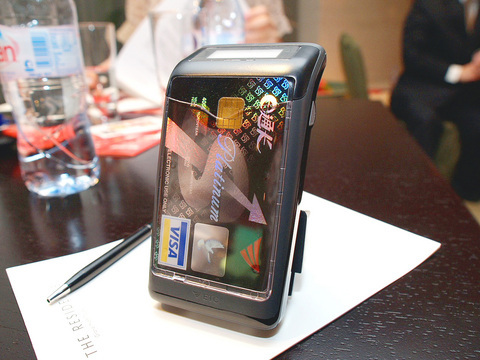 An electronic toll-payment device is presented at a press conference in Taipei yesterday. Credit as well as store added-value can be used with this kind of device.
PHOTO: CHEN CHUNG-HSIN, TAIPEI TIMES
Drivers will have to install on-board units which display the e-wallet's balance and facilitate card-reading by toll-booth sensors.
The on-board units retail at NT$1,300 each. Users spending NT$20,000 within the first three months of receiving their cards will receive the units for free, the banks said.
The e-toll collection system will officially go into operation in January next year. Users will still be charged at each tollgate, as they are now. After 2010, users will be charged according to distance traveled, with sensors at freeway entrances keeping track of cars.
This type of payment is expected to extend next year to convenience stores, gas stations, parking lots and amusement parks.
Comments will be moderated. Keep comments relevant to the article. Remarks containing abusive and obscene language, personal attacks of any kind or promotion will be removed and the user banned. Final decision will be at the discretion of the Taipei Times.