Water cuts cause massive losses
PARALYZED Of the 350 firms in the Kuanying Industrial Park, production at 310 has either stopped or been reduced by supply problems in the wake of Typhoon Aere
The week-long water shortage in Taoyuan County has caused damage estimated at NT$10 billion (US$285.7 million) to industrial infrastructure in the county's industrial zones -- as well as the death of one water company official due to heart failure. \nAs of Wednesday, estimated losses reported by some 310 firms and factories at the Kuanying Industrial Park (觀音工業區) stood at more than NT$8 billion (US$228.6 million), park director Chiu Shih-tsung (邱詩聰) said yesterday. \nWorst hit were high-tech, biochemical and petrochemical companies, with daily losses estimated at between NT$700 billion and NT$800 million (US$20 million and US$22.8 million), he said. \nThe water cuts since Aug. 25 were not caused by drought, but by torrential rains triggered by Ty-phoon Aere, which washed tonnes of mud into the Shihmen Reservoir in Taoyuan outside Taipei. \nThe muddy water paralyzed almost all of the reservoir administration's purification systems, resulting in a water stoppage to most of Taoyuan, whose water supply comes mostly from the reservoir. Chiu said of the 350 firms in the park, production at 310 companies has either stopped or been reduced. \nAmid firms' anger over the government's failure to restore water, technicians at the Taiwan Water Supply Corp (自來水公司) have been working day and night in a bid to resume normal water supplies. \nAfter five sleepless days to help restore the water supply, Wu Chin-niu (吳金鈕), a senior technician, suffered a serious stroke yesterday morning because of his heavy workload, the company said in a statement. \nWu was immediately sent to a hospital nearby but died in the evening. Minister of Economic Affairs Ho Mei-yueh (何美玥), who was asked by Taoyuan County Commissioner Chu Li-lun (朱立倫) to step down over the government's failure to restore water, was filmed by local cable television stations as she shed tears over the technician's death at the hospital in Taoyuan. \nHo reiterated yesterday that the ministry and the water company would seek to resume at least part of the normal supply for Taoyuan residents and some industrial parks tonight. \nChen Shen-hsien (陳伸賢), director of Water Resources Agency under the Ministry of Economic Affairs, said the water supply will be restored on a rotation basis in southern Taoyuan tomorrow morning. Premier Yu Shyi-kun promised on Tuesday to fully resume the system by Sept. 8. \nThe central government has allocated NT$150 million (US$4.2 million) in relief funds for Taoyuan residents to buy bottled drinking water. \nThe Taoyuan local government also lifted its ban on drilling wells to try to ease the shortage. \nIf normal supply is not restored soon, big firms like notebook computer maker Quanta Computer Inc (廣達電腦) and Nanya Technology Inc (南亞科技) will run out of their own water reserves, with losses amounting to a possible NT$1 billion (US$28.6 million) per day, Chiu said. \nFour nearby industrial zones with more than 400 firms have also reported combined losses of at least NT$2 billion (US$57 million), zone officials said. \nA number of firms, including Acer Inc, were forced to spend at least NT$600,000 (US$17,142) a day to buy water in order to maintain their production lines, they said. \nBoth the Consumer Protection Commission and Fair Trade Commission called on related businesses, including water transporters and retailers selling bottled water, not to jointly force up prices of their products and services, according to statements released yesterday. \nViolators can be fined up to NT$250 million.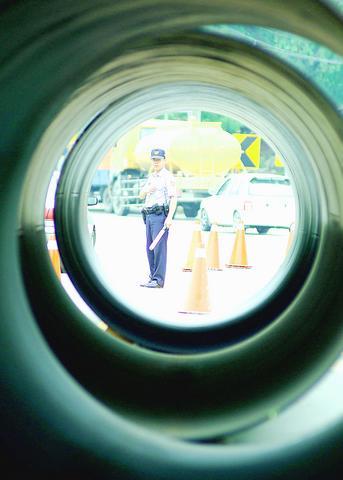 A policeman directs the flow of traffic in Taoyuan County yesterday to make sure that construction work to restore the water supply runs smoothly. The water supply should be restored the day after tomorrow.
PHOTO: CNA.
Comments will be moderated. Keep comments relevant to the article. Remarks containing abusive and obscene language, personal attacks of any kind or promotion will be removed and the user banned. Final decision will be at the discretion of the Taipei Times.