AmCham gettig down to business
The American Chamber of Commerce in Taipei has been representing the interests of Americans doing business here for the past 51 years. Last year saw membership numbers drop from over 1,000 to around 800. `Taipei Times' staff reporter Bill Heaney sat down with new president Andrea Wu to discuss the plans she has made to inject new vigor into the organization since her election in December
Taipei Times: Apart from the protection of intellectual property rights (IPR), what are the major issues facing American businesses working in Taiwan at present and have you seen any movement on these issues recently? If not, are you optimistic about the chances for real change this year? \nAndrea Wu (吳王小珍): In 2003, our White Paper addressed all of our concerns here including pharmaceuticals and medical devices -- there is also an IPR issue there -- also financial reform, government procurement, human resources regulation and also "black gold" [corruption]. For financial reform, we saw good improvements in that area. Non-performing loans have been brought down essentially and also the preparation for reforming bankruptcies and the company reorganization law is [ongoing]. There have also been major corruption cases and action taken against corporate black gold, so we do see a lot of movement in this area. \nAnother area is the qualified foreign institutional investor (QFII) regulation that has been dismantled. That regulation really discriminated against foreigners by requiring a lot of onerous paperwork and it also limited the investment funds that could invest in this market, so taking away these restrictions is really helping foreign investment in this market. \nAnd as regards human resources, such as the policy of issuing work permits, the government just revised its requirement for two years' working experience. Now it's been wavered for holders of master's degrees. It used to be only PhDs who did not have to show two years work experience [to get a work visa]. \nThat's a great improvement. However, we see that as missing the point. If you want to attract the best and most qualified talent to work in this market, you have to accept a greater free-flow [of human resources], and accept foreign talent working here. Protecting this labor market is not actually generating more job opportunities for people in this country. \nAnother area is government procurement because in that area the prevailing terms and conditions of contracts are still written in such a way that international companies find they have too high a level of a liability, which is unacceptable. \nWe understand that Taiwan at the moment is not part of the Government Procurement Agreement (GPA), but we strongly suggest that Taiwan should just abide by the same regulations and get ready so that when it becomes a full member, we don't have to change any process or any format -- things can just move along. The result of not playing by the same game rules is that a lot of qualified international construction companies building infrastructure for other countries in the region have no interest in participating in any projects in Taiwan and the citizens of Taiwan, actually, in the end cannot enjoy the same quality of infrastructure build-up that they deserve. \nTT: Do you think that the unwillingness of the authorities to sign the GPA is motivated too much by political concerns? \nWu: I think their concerns are more trading concerns. They're protectionist, which we understand. We can accept different regulations, but you have to have fair competition. You can monitor performance and quality by different systems, but you cannot set up hurdles to stop people coming in at all. \nTT: I believe that as a result of these hurdles you do not really have any large-scale construction companies in Amcham any more. Can you comment on that? \nWu: We used to have a very active construction committee. I believe it held 15 to 20 major companies, but that committee became dormant as a lot of companies left Taiwan. That committee is really non-existent now. \nTT: There are two major sticking points between you and the Taiwanese government. One is pharmaceuticals and medical devices. Can you tell us what your issues of concern are and what improvement -- or lack of it -- you have seen recently? \nWu: There are a number of regulatory issues here that have been on our agenda for a long time but where we really haven't seen any improvement, such as the lengthy process time before new products can get approval in this market, and also the unreasonably low prices granted by the National Health Insurance reimbursement scheme. \nWe're hoping that through our continuing communication we can explain the danger and the risks citizens are taking here as they don't have access to the newest and best quality medical devices, or counterfeit drugs that are endangering their health and even their lives. If they truly understand the consequences then I think reform, or new systems, or revision has to take place. \nOne more concern for our member companies is that there is no adequate protection for confidential information. When our members submit products for federal approval, they also have to submit the supporting data. Quite often they found those materials end up in the hands of their domestic competitors here. Firstly, this is a trade secret issue, and secondly some of these drugs have not been through the final testing procedure in their testing countries. \nTT: You mentioned already that American construction companies that used to be in the chamber are now shying away from Taiwan due to unfair competition. The chamber's membership has dropped recently. What are the main reasons for this and what are your plans to increase membership this year? \nWu: We saw some drop in our membership. By category, we lost more in individual members and young professionals. Young professionals especially are moving to Shanghai as this is where business opportunities seem to be concentrated now. \nIf we made travel between the two cities less costly and more time-saving, I'm pretty sure it would stop some expatriates or staff members moving to Shanghai. A lot of people have indicated that life quality is better in Taiwan, but because of practical reasons they can't afford to keep on traveling a whole day to Shanghai when it really only takes 90 minutes flying time. \nAt the moment we have 850 members, but paying companies are around 500. It used to be a little more than 1,000, about 1,100 actually. But for 2004, we are very optimistic. We think it will be the best year for a long time. \nAfter the [Taiwan presidential] election everyone can go back to paying more attention to economic growth. More growth will attract more American businesses to the region. \nTT: Are there any sectors that will see more new members than others? Say technology for example? \nWu: Yes, the IT industry, for sure, but right now those interested in financial services are our biggest group -- also biotechnology and pharmaceuticals. I really think Taiwan still has a lot to offer. \nTT: IPR is still your major concern, and you have often been a harsh critic of Taiwan's performance in this area for many years. How much does IPR infringement in Taiwan cost your members? And do you accept the government's claims that it is finally winning the war against counterfeiters of music, movie and video disks for example? \nWu: In the area of IPR, we have seen a lot of improvement. We do not have a figure to hand telling us how much our members are spending or what expenses are generated by this, but I do know executives who constantly tell me they have to spend a lot of time and hire lawyers to be in court just to fight against IPR infringement. \nWe admit we've been harsh, but that's when it's been warranted, but we also give credit where it's due and the recent changes to the Copyright Law were very welcome. That tells us that when you have the political will, you can change a lot of systems and stop a lot of misbehavior. \nIn our recent monthly Topics magazine we wrote an article applauding the government's efforts. \nHowever, no one will die from pirated DVDs or CDs, so pharmaceuticals and counterfeit drugs are a threat to public health and that is an area where the government will have to act. \nTT: Do you think Taiwan has a chance to be removed from the Special 301 Priority Watch List this year? \nWu: That is really up to the US government to review. We are not in any position to make any recommendation. The government will read our publications, but that's a resource anyone can tap into. \nTT: Do you support a free-trade agreement between Taiwan and the US and what advantages will it bring to your members? \nWu: The American chamber's position has been that the discussions are still premature, because to our knowledge the US government agencies are still far from satisfied with the kind of co-operation they are getting from Taiwan on long-standing issues such as government procurement policies, pharmaceutical industries -- IPR was weighed heavily here, also WTO implementation in areas such as rice imports. Until more progress can be shown in those areas we don't feel there's much point in starting complicated negotiations to try and set up a free-trade agreement between Taiwan and the US. \nTT: Do you feel the president's referendum plan has hurt your members' interests or do you support his right to call what is in effect a democratic vote? \nWu: The American chamber does not take any position on political issues. \nTT: What are your plans for 2004? \nWu: We are reviewing our committee structure in light of the changing environment and membership profile. We want to recruit more members, so we have a new recruitment plan. The chamber has to be more relevant. \nThis year we want to enrich our program with more information or business events, or even social activities. \nWe want to add more variety to our programs to attract different crowds. We also want to reach out to various organizations in the community.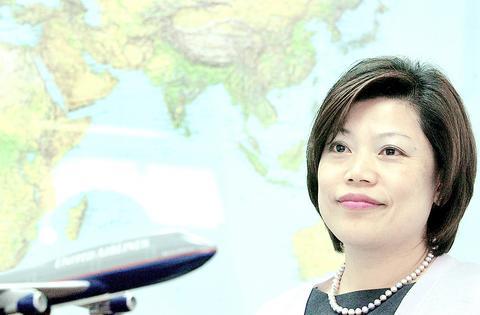 New American Chamber of Commerce president Andrea Wu is confident that the organization can rebound from a recent fall in membership.
PHOTO: SEAN CHAO
Comments will be moderated. Keep comments relevant to the article. Remarks containing abusive and obscene language, personal attacks of any kind or promotion will be removed and the user banned. Final decision will be at the discretion of the Taipei Times.