New chapter starts in book sector
READING THE FUTURE A Singapore-based bookstore has opened in Taipei 101 Mall and intends to create a stir among the established players in Taiwan's market
A Singapore-based international bookstore has attracted the attention of local rivals with the soft opening this week of what it says is the largest bookstore in Taiwan. \nPage One, established in 1983, made its debut in Taiwan on Monday on the fourth floor of the Taipei 101 Mall. With 720 ping of sales area, the company said it aims to become the largest international mega-bookstore in the country. \n"Taiwan is the place with the most vigorous growth in the world in the Chinese-book-trading market," said Dennis Liu (劉春豪), the bookstore's corporate affairs manager. \nThe Taipei 101 branch is Page One's 11th store, following expansion to Malaysia, Thailand, Hong Kong and Australia. \nThe company invested about NT$150 million in the new branch, which will stock 170,000 books in Chinese and 160,000 in English. It is particularly proud of the 20,000 books it will offer on art and design. \n"Our huge selection of art and design books is our distinguishing feature from the competitors," Liu said. "The estimated 85,000 highly educated office workers in Taipei 101 will be the target customers for our numerous books in English." \nPage One hopes to draw 5,000 visitors daily and expects to create sales of NT$35 million in its first year, Liu said. \nSome booklovers praised Page One's interior design and ample space, as well as its plentiful supply of books in English. \n"The new and big space is comfortable and the abundant selection of books offered can meet consumers' needs," said Sophia Su, a 30 year-old teacher. \nAnother customer agreed, saying the rest corners and lighted areas made customers feel respected. \n"I think it makes the store more appealing than Eslite (誠品)," said Nick Chang, a 40 year-old office employee. \nEslite Co, the nation's largest bookstore chain with 50 outlets, denied Page One's claim of being Taiwan's largest, or even best, bookstore. \n"Our flagship store [at the intersection of Jenai Rd. and Tunhua S. Rd.] measures 1,500 ping and has sales of more than NT$40 million per month," said Lee Yu-hwa (李玉華), Eslite's public relations assistant manager. \nIn addition to the ample art and architecture books which draw lots of artists and architects, Eslite in 1999 started operating 24 hours a day at its flagship store, Lee said. \nWhile welcoming the competition, Eslite said it expected to increase sales to NT$5.2 billion this year from NT$4 billion last year and open up to 10 more outlets. \n"Our more than 80,000 loyal members that shop at least three times a month, spending an average of NT$1,000 every time, are our valuable asset and competitive edge," she said.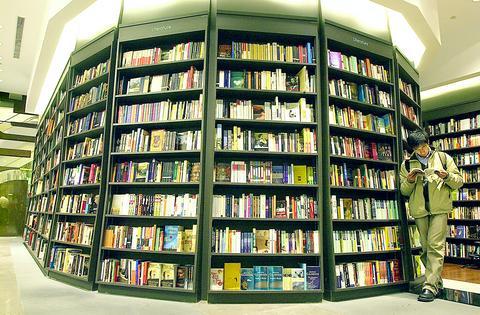 A booklover peruses the selection at the Page One bookstore in the Taipei 101 Mall yesterday.
PHOTO: GEORGE TSORNG, TAIPEI TIMES
Comments will be moderated. Keep comments relevant to the article. Remarks containing abusive and obscene language, personal attacks of any kind or promotion will be removed and the user banned. Final decision will be at the discretion of the Taipei Times.