Parmalat shockwaves spread far and wide
GLOBAL REACH Regulatory thinking is set for a shake-up worldwide following the Parmalat scandal because of its dubious endeavors in a whole host of different countries
The collapse of Parmalat is turning into one of the most bizarre as well as one of the biggest fraudulent bankruptcies in Europe for decades. \nThe repercussions are putting bankers, auditors and regulators under the spotlight in many parts of the world as investigators unravel clues to how many billions of euros may be missing, for how long and why. \nParmalat, they seem to have discovered, was held together by a Milky Way of companies and accounts to service food activities from South and North America to Europe and Australia -- and allegedly to dress up scanty finances and siphon funds into other pockets. \nAmong countries touched by the investigation are: Austria, Brazil, Cayman Islands, Germany, Luxembourg, Italy, the Netherlands, Switzerland, the US, and Venezuela. \nThe affair has also besmirched some top names in finance which had dealings with the group. Among banks in the spotlight are Citigroup, Bank of America, JP Morgan, Deutsche Bank, ABN Amro, UBS, Banco Santander Central Hispano, and in Italy, Banca Intesa and Capitalia. \nIt has also embarrassed international auditing groups Grant Thornton and Deloitte and Touche which Parmalat, under administration by rescue specialist Enrico Bondi, dismissed recently. \nBut it is in Europe that the continuous stream of revelations is hitting hardest. \nThe EU Commission, as well as the Italian government, is reviewing ways to strengthen watchdogs. \nThe commission has said it must "begin to analyse the implications for EU financial services policies" and that in February it would tighten proposals on auditing to "greatly strengthen the oversight of audit firms." \nThe Italian government has criticized the Consob stock regulator and Bank of Italy for their monitoring of Parmalat and is working on new financial regulations "with urgency to give a response to the international markets which want to be told that Italy is a safe country". \nAnd the Organization for Economic Cooperation and Development has redrafted guidelines, originally intended for emerging countries, in response to frauds of the Enron and WorldCom type but made specific reference to Parmalat when it published them this week. \nOECD director general Donald Johnston declared: "It's clear there are a number of areas where changes are needed, and this is most striking in the Parmalat affair ... We never contemplated a need to discuss this in the United States and Europe." \nThe astonishing story of how the rapid rise of the Italian food empire built on milk came to end in tears for many, has been unfolding for six weeks. Several enquiries are under way and nine people have been detained for suspected fraud. \nIn all, 26 people have been told they are being investigated with a view to charges being laid, a procedure which gives them access to evidence. \nNo formal charges have been laid and much of the picture has emerged through press reports and allegations by investigators. But the company is insolvent and 36,000 employees are waiting to hear if the Italian state will orchestrate a rescue or if predators will pick up the pieces. \nThe plot so far, unproved but widely told, is worthy of the most imaginative scriptwriter: Calisto Tanzi, a young man in Parma, the home of Italian cured ham and Parmesan cheese, takes over his family's small meat business in the 1960s, diversifies into milk and builds a global empire. \nParmalat buys a second-rate football club -- Parma -- and turns it into a European winner. Tanzi puts his son in charge. "Don Calisto" is said to fund the renovation of churches and to ferry politicians and prelates in company aircraft. \nBut behind this facade, in the last decade Tanzi and a few key managers allegedly invent accounts and assets. \nAnd they create documents to clothe the fiction in order to cover poor performance and to divert funds, into a failing local travel company, Parmatour, controlled by his daughter, for example. \nAnd with this world of make-believe they fool banks and auditors, -- until bond payments fall due and financial entities with such names as Bonlat, Epicurum or Buconero -- black hole in English -- are revealed as the top of a bottomless pit. \nThe company's telephone manager turns out to have been the titular head of about 30 companies. Investigators say that each time they open a set of books they find more nasty surprises. \nMany shocking but colorful European corporate frauds of the last 25 years come to mind: the Maxwell pension fund fraud and the collapse of Barings bank in Britain, for example. \nOne of the strangest was the collapse of the Italian Banco Ambrosiano in the early 1980s with links to an alleged right-wing political plot and separately to the Vatican. \nThe mafia is suspected of having murdered one key figure, and a close associate banker died in prison after drinking poisoned coffee. \nHowever, the Parmalat affair, "one of the largest and most brazen financial frauds in history" in the words of US regulators, stands out because it is bizarre, reaches into many countries and seems certain to change regulatory thinking.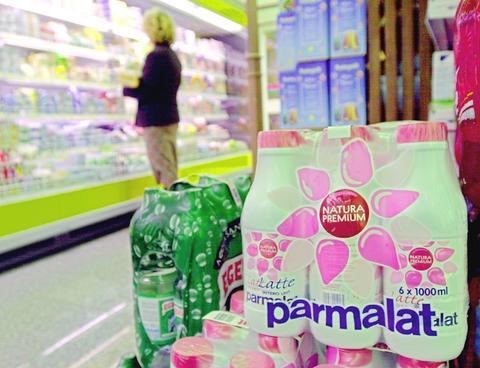 A six-bottle package of Parmalat milk is seen in this file photo. The Parmalat scandal could affect the global economy in a different way to the fallout of the Enron and WorldCom revelations because the Italian dairy company reached into many other countries.
PHOTO: AP
Comments will be moderated. Keep comments relevant to the article. Remarks containing abusive and obscene language, personal attacks of any kind or promotion will be removed and the user banned. Final decision will be at the discretion of the Taipei Times.