Putin plugs Lukoil's Iraq deals
SIDESHOW Prices predictably rallied as OPEC slashed production earlier this week, while the Russian president used his trip to the US to defend the oil firm's contracts
Oil prices eased on world markets on Friday as traders locked in profits after a rally earlier in the week sparked by a surprise production cut by the OPEC cartel.
New York's benchmark light sweet crude November contract slipped US$0.13 to US$28.16 in late trading.
The price of reference Brent North Sea crude oil for November delivery dipped US$0.31 per barrel to US$26.50 in London trading.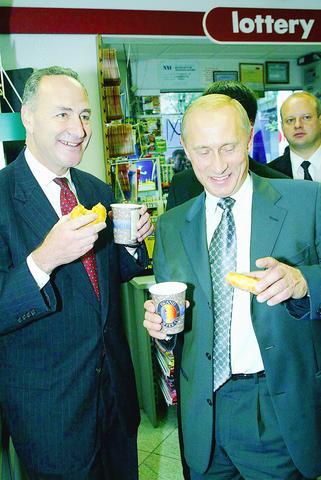 Russian President Vladimir Putin, right, enjoys a Krispy Kreme doughnut and coffee with Senator Charles Schumer from New York as Putin visits the first New York gas station of the Russian company Lukoil, Friday.
PHOTO: AP
"After the news from OPEC this week, there is a bit of profit-taking into the weekend," said GNI trader Kevin Blemkin.
The Organization of Petroleum Exporting Countries surprised oil markets on Wednesday by agreeing to trim its overall production ceiling by 900,000 barrels per day to 24.5 million barrels, sending prices soaring.
The decision followed a sharp fall in world oil prices in the month ahead of the meeting at its Vienna headquarters.
But with supplies rising from post-war Iraq -- a member of OPEC but not part of its quota system -- and rivals such as Russia, many analysts think prices could start to weaken again.
"I think prices will keep deteriorating next week," said Kevin Blemkin, a trader at GNI.
"If there was no follow-through in the rally [this week], I'm not sure we're going get one."
Meanwhile, traders paid close attention to Russian President Vladimir Putin's visit to the US.
Putin ate a ceremonial glazed doughnut to open a service station in New York on Friday, and a US senator used the occasion to bash OPEC.
The moment was a small but sweet victory for the Russian oil baron Vagit Alekperov: The Getty gas station he bought in Manhattan three years ago was renamed on Friday after his own huge oil company, Lukoil.
Alekperov wanted US consumers at the pump to understand that they need Russian oil and that companies like his are ready to provide it. For the last two years, oil has become an increasingly powerful bond between the US, the world's largest consumer, and Russia, among the largest producers.
But Alekperov's trip to the US as part of Putin's entourage may partly be in the hope that the Bush administration could help Lukoil with a crucial oil interest outside Russia: the huge West Qurna field in Iraq.
Lukoil is among several foreign companies that negotiated contracts and memorandums of understanding with the government of Saddam Hussein to develop oil fields once UN sanctions were lifted. The sanctions are now gone, but so is the old government. Lukoil and the other companies now worry that the agreements they spent years and millions of dollars to develop will be abrogated by the new Iraqi authorities.
People close to Putin and Alekperov said that they expected Putin to raise the question of protecting the Russian oil contracts with US President GEorge W. Bush during their weekend meeting at Camp David.
"The Iraqi question will clearly be on the agenda of the summit," Alekperov said in an interview in New York on Thursday evening. "I think the president of a country and the government should help their own companies."
Russian-owned Lukoil Oil Co acquired Getty Petroleum and its 1,300 US gasoline stations in November 2000, and the Manhattan station is one of about 150 in the US Northeast that Lukoil will rebrand over the next two years.
Bright red Lukoil flags fluttered and US and Russian security men in dark suits held photographers and reporters at bay as Senator Charles Schumer, a New York Democrat, greeted Putin at the curb of the full-service station, then accompanied him inside where bills are paid and beverages and snacks are sold.
"When I showed the president of Russia a Krispy Kreme doughnut and he ate it and said it was good, that was one of the more surreal moments I've had in politics," Schumer reported.
Putin made no public remarks and stayed only 10 minutes.
After Putin's motorcade roared off, Schumer, noting that Russia is not a member of OPEC and so Lukoil is not bound by its price-boosting output limits, said: "The more competition there is in oil, particularly against OPEC, the better New York will do and the better America will do."
He said New Yorkers should not expect immediate reductions in their gas prices but said: "I hope OPEC is hurt by this so they don't have the stranglehold any more."
Only a few pedestrians stopped to check out the scene from across the street -- one laughed and shouted "Who cares?" when told the Russian president was coming -- and a couple of vehicles tried to pull into the station for refueling, scores of security vans and police cars notwithstanding.
Comments will be moderated. Keep comments relevant to the article. Remarks containing abusive and obscene language, personal attacks of any kind or promotion will be removed and the user banned. Final decision will be at the discretion of the Taipei Times.