Tech gamblers lose in New York
TEPID OUTLOOK Wall Street was disappointed by IBM's poor showing, but analysts were surprised by the strength of the US' financial services sector
Investors betting on the tech sector to lead a new bull market as it did in the late 1990s were likely disappointed this past week when the NASDAQ composite tumbled on tepid outlooks from Nokia and IBM.
Analysts say the setback isn't necessarily surprising, noting that a fresh bull run is rarely led by a previous driver. Indeed, they believe a clear leader might not emerge for some time, although financial services and cross-industry categories such as dividend-paying stocks show promise.
"The `leadership factor' is frequently associated with major bull markets," Mark Fulton, deputy director of US equity research for Smith Barney, said in a report Thursday. "The renewed equity rally to date has included a substantial technology recovery, but this is more in line with a [short-term] cyclical recovery than structural leadership."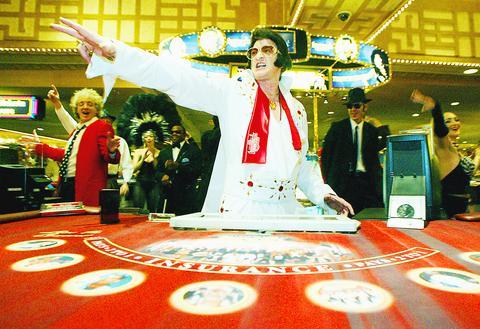 Celebrity impersonating blackjack dealers sing ''Viva Las Vegas'' as they take positions behind tables during the unveiling of the Legends Pit at the Imperial Palace casino in Las Vegas, Nevada on Friday. Casinos in Las Vegas, traditionally tech-savvy, are quick to take advantage of the latest advances in electronic security as well as computer hardware and software. Many firms are counting on such tech-buying stalwarts for sales while overall, companies in the US are avoiding major tech purchases.
PHOTO: REUTERS
Fulton and equity strategist Tobias Levkovich explained that while some segments of the tech sector have performed strongly, it is unclear whether the gains are sustainable or that Wall Street's advance overall can continue long-term.
"There has been fairly constant sector rotation in the equity market, with no clear leadership over the past three years," Levkovich stated. "In a cyclical recovery, certain industries will do better than others ... while a softening economy may demand that investors seek out more-defensive stocks."
There was evidence of a leadership void this past week.
After far outpacing the other major indexes this year, the NASDAQ suffered its largest point-drop in four months Thursday on weak forecasts from Nokia and IBM. Analysts said investors were disappointed after having high expectations for a second-half economic recovery, particularly in the tech sector, although Microsoft helped alleviate some of those concerns with an upbeat outlook late Thursday.
The financial services sector, meanwhile, showed surprising strength after Citigroup, Bank of America and Merrill Lynch reported quarterly earnings that handily beat analysts' estimates. The results helped minimize losses in the Dow Jones industrial average this past week.
Analysts believe the technology, financial services and health care sectors in particular have the potential to be market drivers since they make up a large portion of the Standard & Poor's 500 index. But each also has its vulnerabilities, they said.
Banks, for example, could suffer in coming quarters with the threat of rising interest rates, which would dampen their thriving mortgage-lending businesses.
Technology is showing growth that is quite modest compared to the "new economy" Internet story of the late 1990s. Smith Barney analysts, meanwhile, believe the health care sector may be overvalued because of proposed legislation limiting prescription drug costs.
More likely, it will be a few individual companies in those three sectors and others that will stand out, analysts said. For example, Microsoft and Intel in technology, Amgen in biotechnology, American Express in financials, and General Electric and Caterpillar in industrials might prove to be the leaders rather than the sectors themselves, Levkovich said.
"There are probably certain segments of technology that can well be market leaders ... Internet companies such as eBay and Yahoo, whose businesses appear strong," said Robert Streed, portfolio manager of Northern Trust Select Equity Fund.
Levkovich said a cross-industry leader might be dividend-paying stocks, which have benefited from US President George W. Bush's tax cut earlier this year. The winners might not be companies that pay the highest yield now, but those that surprise investors later with dividend increases.
In the end, investors might not be able to count on a clear sector winner anytime soon. That would require investors to consider frequent portfolio shifts or even greater diversification.
In a bull market run, "there are always sectors that really provide the leadership, who have the wind at their back in a very obvious and compelling way," said Charles White, vice chairman and portfolio strategist at Avatar Associates.
"But I don't think we're there yet in any particular sector," he said. "It's really too soon to sit here and pound the table and say all the pieces are in place."
For the week, the Dow Jones industrials rose 68.56, or 0.8 percent. They closed Friday at 9,188.15.
The NASDAQ composite index had a weekly decline of 25.42, or 1.5 percent, closing at 1,708.50 on Friday. The Standard & Poor's 500 index had a weekly loss of 4.82, or 0.5 percent, finishing at 993.32.
For the week, the Russell 2000 index, the barometer of smaller company stocks, fell 9.01, or 1.9 percent, closing at 464.76.
The Wilshire 5000 Total Market Index, which tracks more than 5,700 US-based companies, ended the week at 9,546.66, down 64.27 from the previous week. A year ago, the index was at 8,082.99.
Comments will be moderated. Keep comments relevant to the article. Remarks containing abusive and obscene language, personal attacks of any kind or promotion will be removed and the user banned. Final decision will be at the discretion of the Taipei Times.