SARS fears prompt trip cancellations
CANCELLATIONS Travelers are expected to shun Taiwan because of disease worries. However, the China External Trade Development Council believes the country is safe
Foreign businesspeople are expected to put off or cancel visits to Taiwan as severe acute respiratory syndrome (SARS) fears escalate.
Unless they have no choice, "traveling businessmen will not dare to board planes to Taiwan" if more cases of the disease are confirmed, National Taiwan University professor of economics Hsu Chen-ming (許振明) said yesterday.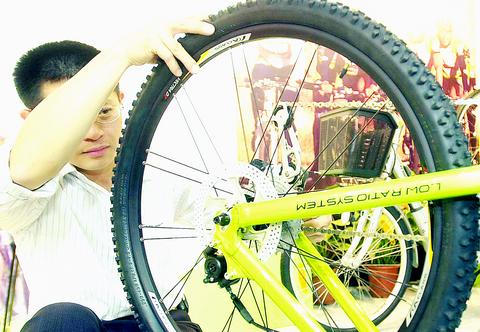 Brian Chiu, a technician at Merida Industry Co, sets up a Magnesium Elite bike at the 2003 Taipei International Cycle Show yesterday. The show kicks off today at the Taipei World Trade Center and runs through Tuesday. The show is open to the public on Monday and Tuesday and admission is NT$200. Eight overseas companies have decided against attending the show over fears of severe acute respiratory syndrome.
PHOTO: SEAN CHAO, TAIPEI TIMES
Hsu organizes international conferences in Taiwan and has noticed a flurry of cancellations, postponements and non-confirmations for upcoming events.
As of yesterday, the Department of Health said that there were 10 suspected SARS cases in Taiwan, six of which have been confirmed.
The World Health Organization (WHO) placed Taiwan on its list of "affected areas" for SARS on Thursday. Government officials are now scrambling to stop cancellations from overseas visitors.
But foreign businesspeople may already be aborting trips, Chinese-language media suggested yesterday.
Eight overseas companies canceled their booths at the 2003 Taipei International Cycle Show, which starts today.
The non-profit organizer of the show, the China External Trade Development Council (CETRA), tried to downplay SARS fears yesterday.
"I think these cancellations are a result of the war in Iraq and not SARS," CETRA secretary-general Chao Yung-chuan (趙永全) said.
The Taipei International Machine Tools Show that ended last Sunday saw a 20-percent drop in overseas visitors, but as the event took place before the SARS cases were confirmed in Taiwan, the drop can not be attributed to the disease, Chao said.
"US visitors were down 20 percent and European visitors 40 percent, but mainland Chinese visitors increased fivefold, so our analysis of the drop in attendance is that it was a direct result of the US-Iraq war," Chao said.
Earlier this week CETRA sent an e-mail to overseas participants in five upcoming international events -- bicycle, sports, giftware, electronics and opto-electronics shows -- stressing the safety of Taiwan.
A copy of the e-mail obtained by the Taipei Times states that Taipei is "one of the world's safest and healthiest cities" and adds that "Taiwan has a glowing health record, which means that recent outbreaks of influenza in Hong Kong, Singapore, and China have been largely kept off the island."
June Chang (張彥青), another CETRA spokesperson responsible for the bicycle show, also played down the cancellations, saying three foreign firms signed up at the last minute to attend the show, making up for some of the firms that decided not to come. With more than 600 exhibitors, the cancellations were not important, she said.
Meanwhile, the disease is not expected to deter people from doing business across the Taiwan Strait.
"Taiwanese will continue to do business on the mainland and will not allow this disease to hinder their normal operations," Cheng Chen-mount (鄭貞茂), an economist at Citibank NA (花旗銀行), said yesterday.
Many Taiwanese companies have factories in China's Guangdong Province, where the highest number of confirmed SARS cases have been reported globally. As of the end of February, 792 SARS cases had been documented as well as 31 deaths, the WHO reported on Thursday.
Some businesspeople are choosing to opt out of China trips for now. A planned 40-strong fact-finding delegation to China next month by the Chinese National Association of Industry & Commerce (工商協進會) was canceled yesterday, deputy secretary-general George Lin (林添貴) said.
"We canceled the trip as a lot of the members said they were concerned about SARS," he said.
And Taiwan's largest tech company, Acer Inc, has banned trips across the Taiwan Strait.
"Acer Inc is advising employees to communicate via various means, such as video conferencing, the best we can, and forbidding travel to Hong Kong, Macau, Shenzhen and Guangzhou," Henry Wang (汪島雄), Acer's senior director of public relations, said in an e-mail. "We are also asking those employees needing to travel to other cities in mainland China to transfer flights via Tokyo instead of Hong Kong and Macau for the time being. Employees are asked to remain cautious."
Comments will be moderated. Keep comments relevant to the article. Remarks containing abusive and obscene language, personal attacks of any kind or promotion will be removed and the user banned. Final decision will be at the discretion of the Taipei Times.