Head of Far EasTone to step down
Joseph O'Konek, the flamboyant head of Taiwan's number three mobile phone service company, Far EasTone Telecommunications Co (遠傳電信), has decided to resign and pursue his career in the US, the company said yesterday. \n"Joseph O'Konek's current contract with Far EasTone will end on June 30 this year," said Tsai Pau-lin (蔡培綾), public relations manager at Far EasTone Telecommunications Co (遠傳電信). \nO'Konek, president of Far EasTone, joined the company in May 1998. Prior to that, he was vice president and general manager for PrimeCo Personal Communications in the US and worked for three years in Prague as the chief operating officer of EuroTel. \nO'Konek started his wireless career with AT&T in 1981. \nUS-based AT&T is Far EasTone's major foreign investor holding about 28 percent of the venture's shares. \n"After working abroad for about eight years, O'Konek decided to move back to the States," Tsai said without elaborating. \nAnother insider familiar with O'Konek said he is planning to work for AT&T Wireless in the US. \nMeanwhile, the company said they are looking for a suitable successor. \n"We've assigned a global headhunting firm to outsource a foreign telecom industry veteran for our new president," said Melissa Chen (陳柔君), a public relations official at Far EasTone. \nDuring the interim, Douglas Hsu (徐旭東), Far Eastern Group Chairman and Lawrence Yang (楊明德), Far Eastern Group Vice Chairman will take a more active role in guiding the executive team, she said. \nAccording to Far EasTone's financial report early this month, revenue for the first quarter this year was NT$8.213 billion. Its net income margin was NT$3.607 billion, a 53.3 percent improvement compared over the same period last year.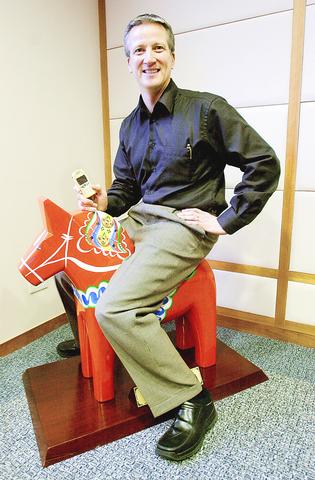 Joseph O'Konek has decided to resign as head of Far EasTone.
TAIPEI TIMES FILE PHOTO
Comments will be moderated. Keep comments relevant to the article. Remarks containing abusive and obscene language, personal attacks of any kind or promotion will be removed and the user banned. Final decision will be at the discretion of the Taipei Times.