Boots vies to beautify Taiwan
Drawn by the extensive use of cosmetics by many Taiwanese women, the UK's largest health and beauty aid retailer recently decided to enter the pageant that is Taiwan's crowded market. Martin Waters, managing director of Boots Retail Taiwan Ltd, spoke to `Taipei Times' reporter Cybil Chou recently about what the company is planning.
Taipei Times: What major product lines will Boots offer Taiwanese consumers?
Martin Waters: Our company already has 1,400 chain stores in the UK with 2,500 products in three different categories that nobody else has, which is the first thing that we can offer to our customers.
We will import five exclusive brands of cosmetics under the Boots brandname, including No. 7 -- the number one brand of cosmetics in the UK, No. 17 which targets younger consumers, Natural Collection brand and the Kyusu label.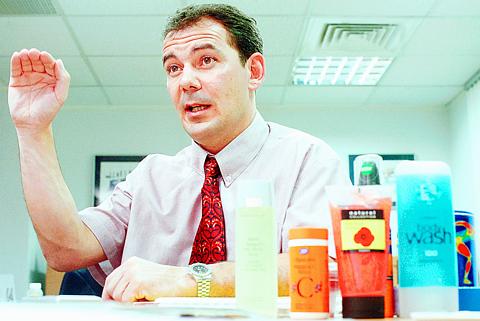 Martin Waters, managing director of Boots Retail (Taiwan) Ltd.
PHOTO: CHEN CHENG-CHANG, TAIPEI TIMES
In addition to that, we will compete with Boots products in the other core categories of skincare, hair care, body care, foot care and dental care -- anything to do with looking after your body is our business.
The other product line is health care, which includes 150 product supplements, from vitamins to a whole range of food supplements.
These products will take time to get in as they must be registered with and and approved by the Department of Health (衛生署).
To begin with, we will probably only bring in about 100 to 150 products in the health care area. But we take a very long-term view of this market and plan to register far more products than that. We spent about a year to understand the health food and drug classifications in Taiwan.
TT: How will Boots present their products to customers?
Waters: First, we are experts in products, and second we are experts in people. We invest more money than any other retailer in the world on training. Our staff undergo intensive training programs before they meet customers. We do believe in having some staff who have more specialized knowledge than others -- specifically pharmacists.
We will have a pharmacist on duty in every shop, and I don't think anybody else does that. The second area of staff is the beauty section, where we will have specially trained make-up experts. The remaining staff will be for general assistance.
TT: Who are the competition in Taiwan?
Waters: Our business is split into three areas: beauty, personal care and health, so we compete with operators that dominate each of these specialized markets. In the health business we see ourselves competing with independent pharmacists. In the beauty market we recognize department stores as our competitors. In the personal care sector, grocers, hypermarts and convenience stores are the competition.
TT: Are there any unique marketing methods used by Boots?
Waters: Inside the shops our people will provide information customers can trust. We will explain ways to look after yourself, supplemented by a whole series of information leaflets on different subjects ranging from nail care to asthma.
TT: What products do you expect to be your strong suit in Taiwan?
Waters: We believe make-up will be especially popular here, due to the fact that Taiwan consumers are a bit more sophisticated when it comes to using the world's leading edge brands than other Asian markets.
We also expect some of our designer shampoos to be popular here as they bring a little more flair and expertise to the traditional shampoos customers have been using.
TT: When will the first store open and how many are planned?
Waters: The first Boots will be opening in September in Taipei, with another four to be set up by the end of this year. Meanwhile, the company plans to set up 100 outlets in five years.
Comments will be moderated. Keep comments relevant to the article. Remarks containing abusive and obscene language, personal attacks of any kind or promotion will be removed and the user banned. Final decision will be at the discretion of the Taipei Times.