World choking off terrorist money supplies
DRAGNET The US said it has blocked US$26 million in assets of the Taliban and al-Qaeda, and an additional US$17 million has been blocked by other countries
The Bush administration cracked down on Osama bin Laden's multimillion-dollar financial networks at home and abroad, closing businesses in four states, detaining US suspects and urging allies to help choke off money supplies in 40 nations. \n"By shutting these networks down, we disrupt the murderers' work," President George W. Bush said, announcing the first major dragnet of companies, organizations and people suspected of aiding terrorists from US soil. \nAcross Europe and from coast to coast in America, police conducted raids designed to unravel two Islamic financial networks accused of laundering and raising money and providing logistical support to bin Laden's al-Qaeda organization. \nInvestigators said they believe tens of millions of dollars a year flowed overseas through the al-Barakaat network of stores, groceries and money exchanges, much of it from funds that Somalis living in America send home to relatives. Some of that money was skimmed for use by al-Qaeda and other terrorist networks, investigators said. \nAl-Barakaat group \nThe chairman of the al-Barakaat group, which operates in 40 nations including the US, vehemently denied the White House allegations. \n"This is all lies," Ahmed Nur Ali Jim'ale said in a telephone interview from Dubai. "We are people who are hard working and have nothing to do with terrorists." \nThe second network, al Taqua, is a loosely organized band of companies in Switzerland, Liechtenstein, the Bahamas and Italy, the White House said. It is controlled by Youssef Nada, a naturalized Italian citizen, whose assets the US wants frozen in overseas banks. \nIn all, the names of 62 entities and people were added to a list of suspected terrorist associates targeted by Bush in an executive order signed last month. The earlier list included 88 groups or people whose assets had been frozen because of their ties to al-Qaeda and other terrorist groups. \nIn coordinated raids Wednesday, Customs agents seized evidence and shut down al-Barakaat companies in four cities: Boston, Minneapolis, Seattle and Columbus, Ohio. The Treasury Department froze assets of nine organizations and two people in the US, most with links to al-Barakaat. \nTerrorist transactions \nIn addition, FBI agents raided two businesses seeking evidence of terrorist transactions. The companies cater to the Somali community in northern Virginia, not far from the Treasury Department office where Bush announced the crackdown. \nIn Boston, Mohamed Hussein and Liban Hussein were charged with running an illegal money-transmitting business, according to a criminal complaint. Officials said Mohamed Hussein was in custody. \nThe two men ran Barakaat North America Inc in Massachusetts, a foreign money exchange, without a state license, according to a US Customs Service affidavit. The business moved over US$2 million through a US bank from January through September, the government said. \nSam Osagiede, a lawyer who represented Mohamed Hussein when he applied for the license, said the two men had no connection with a terrorist network. "They are not involved with that," he said. The lawyer said Liban Hussein is out of the country. \nA man was briefly detained in Seattle after federal agents raided a Muslim grocery store containing a wire-transfer operation. \nFive organizations and one person, Garad Jama, were targeted in Minnesota. Agents detained at least one man. \n"Today, we take another important action to expose the enemy to the light and to disrupt its ability to threaten America and innocent life," Bush said. \nSecretary of State Colin Powell said: "Money is the oxygen of terrorism." \nThe event was designed to show progress in the broad anti-terrorism campaign, countering doubts about the US-led military operations in Afghanistan and the administration's response to anthrax scares. \nThe US has blocked US$26 million in assets of the Taliban and al-Qaeda; an additional US$17 million has been blocked by other countries, bringing the worldwide total to US$43 million, a Treasury spokeswoman said. \nTo date, 112 countries have blocking orders in force. \nIn Europe, in a coordinated assault on Osama bin Laden's financial network, authorities across Europe raided homes and businesses and detained two Arab financiers with links to an Egyptian fundamentalist group. \nArab financiers \nPolice detained Youssef Nada and Ali Himmat in raids Wednesday at the men's homes in the Italian enclave of Campione D'Italia. The men were taken across the border to Lugano, Switzerland, for questioning and released six hours later. \nThey are suspected of funneling money to bin Laden's al-Qaeda network through the Nada Management Organization, which until recently was known as the Al Taqua Management Co. \nThe Swiss Federal Prosecutor's Office said police conducted searches in Muri, Switzerland, where another member of Nada Management Organization lives, and at the company's offices in neighboring Vaduz, Liechtenstein. \nThe lawyer for the two Arab financiers, Pier Felice Barchi, said his clients will be questioned again in coming days. He added that they ``have nothing to fear and nothing to hide.'' He said authorities also seized thousands of pages of documents from their homes and offices. \nWhile Swiss and Italian authorities identified the men as Egyptian, Himmat was identified on the U.S. Treasury list as holding Swiss and Tunisian citizenship. \nIn the Netherlands, a government official said on condition of anonymity that investigators went to the address of the Barakat Telecommunications Company but found new tenants unconnected to it. \nAlso on the U.S. list was a man with a Rome address, Dahir Ubeidullahi Aweys. A woman who answered the telephone there said he had left for Somalia, then hung up. \nOfficials at the Bank of Italy and the Italian Treasury Ministry also said that they had been monitoring al Taqua's operations for some time. \nMuslim brotherhood \nNada and Himmat are also senior members of the Muslim Brother-hood, a fundamentalist group that wants to establish an Islamic state in Egypt, a leading Brotherhood member said in Cairo. He spoke on condition of anonymity because the group is outlawed in Egypt. \nEgyptian police have recently cracked down on the group. On Tuesday, in the third mass arrest in recent months, 21 Muslim Brotherhood members were arrested. Lawyers said interrogations did not touch on the Sept. 11 attacks or funding for militant groups. \nThe Muslim Brotherhood, founded in 1928 in Egypt, is the Arab world's oldest fundamentalist Muslim group. It is officially banned in Egypt, but is believed to be the largest Islamic organization in the country. \nIn Egypt, the Brotherhood's activities are tolerated to an extent. Leaders issue statements from offices in Cairo and its members, running as independents, became the largest opposition bloc in the legislature.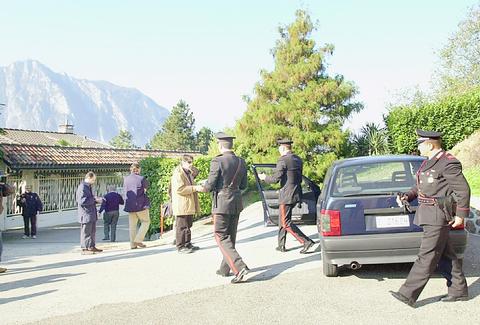 Italian police and journalists stand outside the villa of Nada Management, a financial firm based in Lugano, in Campione d'Italia, during a raid on Wednesday. The Italian news agency ANSA reported that Egyptian Youssef Nada, president of Nada Management, was arrested.
PHOTO: AFP
Comments will be moderated. Keep comments relevant to the article. Remarks containing abusive and obscene language, personal attacks of any kind or promotion will be removed and the user banned. Final decision will be at the discretion of the Taipei Times.