Protesters clash with Pakistani police
INTERNAL TENSION Demonstrators from the right-wing Jamaat-e-Islami party had to be beaten back by police after evading tight security near a base for US warplanes
Baton-wielding police beat back protesters demonstrating against a US military presence in Pakistan yesterday, injuring 14 people and arresting about 100. \nChanting "Osama is our hero" and "US should stop atrocities on Afghanistan," the protesters from the right-wing Jamaat-e-Islami party clashed with police after evading tight security in Jacobabad in the southern Sindh province where the US military is using an air base to provide logistical support for attacks on Afghanistan. \nThe clash came after hundreds of activists from the party -- the largest religious party in the country -- and other pro-Taliban groups were detained during the previous 24 hours in a government crackdown on anti-American demonstrations in the city, police and party sources said. \nParty sources said they would attempt more protests after Qazi Hussain Ahmed, the head of the party, vowed to defy a government ban on the demonstration. \n"We will continue our peaceful campaign till the removal of [military ruler General Pervez] Musharraf's government, which has supported the United States," said Ahmed, who was stopped by officials from boarding a plane to make his way to Jacobabad. \n"We don't want to fight in the streets but if Musharraf's government falls, the policy will automatically change," he said. \nMusharraf has been walking a political tightrope as he backs Washington in its attacks on Osama bin Laden and his Taliban protectors in Afghanistan. The attacks have been strongly and sometimes violently opposed by pro-Taliban Islamic groups in Pakistan. \nIn Jacobabad, military authorities were adamant they would not allow the protest after one earlier this month resulted in the death of one man when police opened fire on angry crowds. \nThe Pakistan army was deployed in the city to back up paramilitary rangers and police who threw up a security cordon close to the airport, one of at least three used by the US military as part of Islamabad's pledge to provide Washington with non-combat logistical support for its strikes on Afghanistan. \nYesterday all roads leading to Jacobabad were blocked -- some with barbed wire barricades and felled trees -- virtually shutting down the city, witnesses said. \nBut witnesses said some people were still trickling into the town, renowned as the hottest in Pakistan and where the most common means of transport is still a horse or donkey-pulled cart. \nThe local administration had called at least 2,000 additional police from nearby towns to tighten security and police set up at least 200 new checkposts at entry points, witnesses said. \nThe military has mounted machine guns on homes of people living around the airport and they have been offered alternative accommodation -- at government expense -- if they want. \nIslamabad has promised to assist Washington in sharing intelligence, allowing the use of its airspace and providing unspecified logistical support as it hunts down Osama bin Laden, accused of the devastating attacks on the US last month.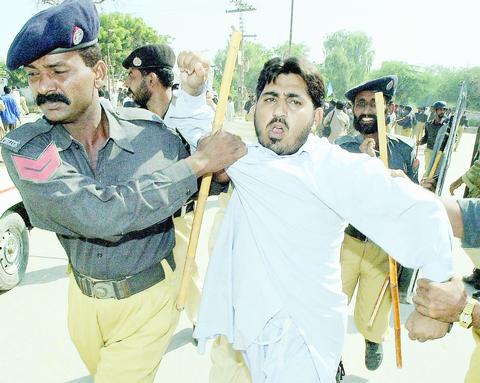 An protestor resists a policeman after Pakistani police dispersed an anti-US demonstration by members of the radical Islamist party Jamaat-e-Islami in Jacobabad, 500km northeast of Karachi, yesterday.
PHOTO: AFP
Comments will be moderated. Keep comments relevant to the article. Remarks containing abusive and obscene language, personal attacks of any kind or promotion will be removed and the user banned. Final decision will be at the discretion of the Taipei Times.