Services bracing for short-term shock
LONG HAUL Although Taiwan's accession to the WTO may be the day many have waited for, pundits say that there's still much work to be done in order to open the service sector to direct foreign investment and global competition
While Taiwan's legislature late last month approved the last 14 laws and regulations related to the nation's WTO entry, membership is just one small step along a very long road to opening Taiwan's service sector.
In general, these laws and regulations cover not only reductions in customs tariffs and elimination of non-tariff restrictions on imports, but also aim to remove many restrictions on foreign investment, especially in the service sector.
Indeed, building an efficient services infrastructure, like any other economic activity, is crucial for any country to satisfy its individual demand and social needs.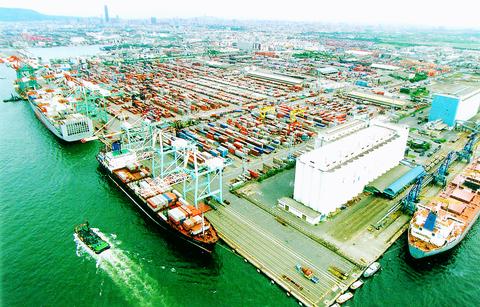 Ships load and unload in Kaohsiung harbor. Investments in financing, distribution, tourism and logistics are expected to rise after the nation joins the WTO early next year.
PHOTO: CHANG CHUNG-YI, TAIPEI TIMES
By the end of last, 55 percent of new hires in Taiwan found wok in the service sector. This is in part due to the government's lifting of a ban in 1988 on the opening of new banks, telecommunication service firms and securities-related companies.
For the US and Britain, that number was over 70 percent, while it was 60 percent for Germany and Japan, according to the Directorate General of Budget, Accounting and Statistics.
"Taiwan's service industry will become one of the most important forces driving the nation's economic development," said Minister of Economic Affairs Lin Hsin-yi (林信義).
Lin said he believes that after entering the WTO, services such as finance, distribution, tourism and logistics would attract greater foreign investment and advanced technologies.
"That will in turn help speed up growth in related industries and in Taiwan's economy as a whole," he said.
But the head of a renowned private think tank said the service sector might be seriously impacted immediately after Taiwan's entry, along with the agricultural sector.
"As the market will be opened to foreign competition, there will be a rise in unemployment and a business slump in the short term," said Wu Rong-i (吳榮義), president of the Taiwan Institute of Economic Research (台經院).
Wu said that certain some companies in Taiwan's service economy will be "weeded out" by the competition, but that many other firms will become more efficient. "That's part of the change brought by freer global trade," Wu said.
Moving toward broader market liberalization is in line with requirements set by the General Agreement on Trade in Services under the WTO framework.
To abide by the legal framework for the international services trade, Taiwan has had to remove various reciprocity requirements in its laws related to foreign investment and foreign employees, said Paul Cassingham, an independent business consultant and former American Chamber of Commerce president.
"There were actually restrictions on foreign investment in Taiwan. Some of these restrictions were easy to identify and explain because they were just explicit, flat legal prohibitions, while others were more subtle. Sometimes it required a government permit that in practice was more difficult for a foreigner than a local to obtain," Cassingham said.
But the WTO requires that companies and citizens from all WTO member countries must be treated alike, and must be treated the same as the member's own companies or citizens, he said.
The recent passage of an amendment to the Architecture Law (建築法) by the Legislative Yuan was designed to allow foreign construction companies to set up operations in Taiwan. But Cassingham said construction will be one of the few sectors that will still require significant reform after entry.
"Construction remains an extremely troubled industry in Taiwan, and one in which real change will require significantly greater effort," Cassingham said
He added that Taiwan needs to boost construction quality to international standards, which will require more training and technology transfers.
"Protectionism will not provide the better quality, lower-cost infrastructure that Taiwan needs, nor will it prepare Taiwan construction companies to compete for major construction projects in the PRC," he said.
Taiwan's legislature also approved an amendment to the Attorney Law (律師法), allowing foreign-licensed lawyers to partner with Taiwan-licensed lawyers. Previously, foreign attorneys were only permitted to work as employees of Taiwanese lawyers, Cassingham said.
WTO membership, however, won't make Taiwan a thriving, more competitive market for international legal services overnight.
Cassingham said that most large American and English law firms will still concentrate on Asia's larger legal markets, such as China, Hong Kong, Japan and Singapore.
"For those foreign lawyers working in Taiwan, however, it will be an important change. In any small business, it's important who owns part of the business and who doesn't," Cassingham said.
Comments will be moderated. Keep comments relevant to the article. Remarks containing abusive and obscene language, personal attacks of any kind or promotion will be removed and the user banned. Final decision will be at the discretion of the Taipei Times.