Membership won't be a cure-all
JOINING THE CLUB Though membership in the WTO has its privileges, analysts say Taiwan must implement important structural reforms in order to stay competitive
Tawian is poised to join the WTO this Sunday, finalizing an almost 12-year battle to get a fair shake on the world stage. \n"By joining WTO we can get fairer treatment from all the world's countries," said Chen Po-chih (陳博志), chairman of the Cabinet's Council for Economic Planning and Development (CEPD). \nEqually important is getting the voice of Taiwan -- one of the largest trading economies in the world -- heard. \n"With WTO membership Taiwan should be able to use its experience and economic size to better understand and have a voice in implementing evolving trade rules," said Richard Henson, president of the American Chamber of Commerce in Taipei. \nSpeaking for Taiwan at the current WTO ministerial meeting -- which starts today and runs through November 13 in Qatar -- is Economic Minister Lin Hsin-yi (林信義), head of the 32-member Taiwanese delegation. \nLin represents a nation that has systematically been shut out of the world body since exiting the United Nations and being booted out of GATT, both in 1971. \nIsolated diplomatically, the nation has only a few allies, most of them small, impoverished countries in Africa and Latin America. \nCurrently mired in recession, Taiwan hopes to use WTO membership to access new investment opportunities, improve corporate efficiency and reduce its dependency on Japan and the US. \nBut hopes for WTO to overcome the array of economic hurdles facing the nation may be wishful thinking. \n"Actual accession itself won't bring some `big bang' of change," Henson said. \nAs for Taiwan businesses, WTO entry will provide greater access to more markets worldwide. \n"It will also force them to become more productive and transparent, and thereby make them better companies," Henson said. \nAlso set to profit from entry are Taiwan consumers, who will see better prices for a wide range of goods and products that today are protected by high tariffs or prohibitive barriers. Foreign multinationals will also reap benefits from the easing of investment restrictions in sectors of the Taiwan economy that are currently closed or difficult to invest in. \nTaiwan must open its doors further to "global companies to bring more resources into the Taiwan market and thereby raise production or service standards in certain inefficient market segments," Henson said. \nCEPD head Chen admitted that raising the bar is an administrative priority as well. \n"In the globalized economy, if we cannot offer satisfactory infrastructure, laws and regulations, government efficiency and a quality living environment, resources will move to other countries," Chen said. \nSpencer White, the head of research at Merrill Lynch Taiwan Ltd, also argues that the trade club offers "no quick fix" for the state of the domestic economy. \nInstead, "The combination of US corporate and consumer spending, will be much more influential in Taiwan being hauled out of the current economic malaise," White said. \nWhile further deregulation and reform should be high on the government's agenda, the best advice White had for the government was to stay out of the way. \n"Governments are notoriously poor at managing the allocation of capital. Risk is unquestionably much better managed by the private sector," he said. \nIn the short term, WTO may make government bureaucrats' job more arduous. "Taiwan is in urgent need of addressing a number of structural issues -- rising unemployment, inadequate infrastructure and various regulatory impediments -- and WTO will, initially, aggravate these stresses in the economy," White said. \nBut veteran economist and Minister Without Portfolio Hu Sheng-cheng (胡勝正) said the administration was on track. \n"The government has worked hard to increase the competitiveness of our economy ... through this transformation, our economy will be stronger and will be able to meet the challenges of increased world competition as a result of our entry into WTO," Hu said. \nNevertheless, Taiwan may still have to break the mold and turn words into action. \n"What is critically different now is that the opportunities will come from less capital intensive industries -- and that requires a very different mindset and approach," White said. \n"The bottom line? The old formulae cannot be applied to these new problems. We have to hope that a more creative and proactive approach is enacted rather than just discussed."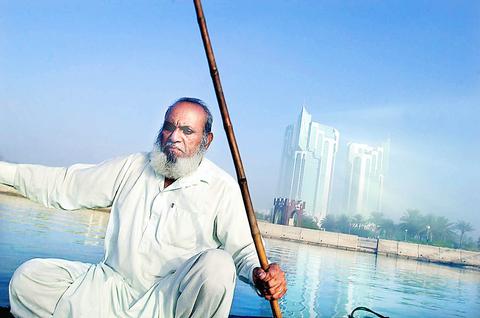 With the Qatari communication building in background, a Pakistani worker starts his day as he fishes during a peaceful foggy morning in Doha, Qatar, on Wednesday. Taiwan is expected to become a member of the trade group this weekend, bringing to an end its 12-year campaign to join the organization.
PHOTO: AFP
Comments will be moderated. Keep comments relevant to the article. Remarks containing abusive and obscene language, personal attacks of any kind or promotion will be removed and the user banned. Final decision will be at the discretion of the Taipei Times.