Prolong grain export ban, Putin says
Russian Prime Minister Vladimir Putin announced on Thursday that Russia's ban on grain exports, which was adopted last month after a severe drought and heatwave depressed the harvest, would be extended well into next year because of continued uncertainty over production.
The government had been scheduled to review the ban toward the end of this year, but Putin indicated at a meeting of senior officials that to ensure stability in the domestic market, grain exports should be halted for considerably longer than that.
"I believe that we must make clear that we can examine the cancelation of the ban on grain exports only after next year's harvest is gathered and there is clarity regarding grain levels," Putin said. "There should be no frantic movement here."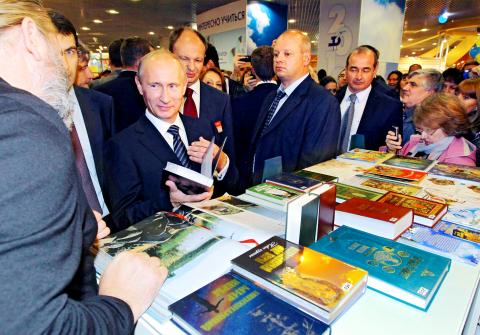 Russian Prime Minister Vladimir Putin, with book, visits the 23rd International Book Fair at the Russian Exhibition Center in Moscow on Thursday.
PHOTO: EPA
Since rebounding from inefficient Soviet policies, Russia has played an increasingly important role in the world grain market and the decision to ban exports last month caused a jolt that helped to drive up prices, but with production suffering because of record temperatures, Putin declared that the country had no choice.
The ban was intended to last until Dec. 31, and it was not entirely clear from Putin's comments on Thursday exactly how much longer it would be prolonged, but he seemed to be suggesting that it would go through to fall next year.
Analysts estimate that this year's harvest will fall by roughly a third. Last year, Russia was the world's third-largest wheat exporter, behind the US and Canada.
In his remarks on Thursday, Putin also demanded that officials crack down on food speculators, seeking to calm a public that has grown jittery because of rising prices for meat, flour, pasta and other staples.
The Kremlin is said to be concerned that discontent over prices could influence the outcome of the 2012 presidential election, when either Putin or his protege, Russian President Dmitri Medvedev, is expected to run.
Comments will be moderated. Keep comments relevant to the article. Remarks containing abusive and obscene language, personal attacks of any kind or promotion will be removed and the user banned. Final decision will be at the discretion of the Taipei Times.