Nissan set to release new hybrid system later this year
Nissan is readying a new hybrid system for its Infiniti luxury model, set to go on sale later this year, while revamping technology for regular gas engines to send a green message.
Nissan Motor Co is a leader among global automakers in zero-emission electric cars, with its Leaf being rolled out in a few months time.
However, its engineers said yesterday that green offerings for conventional cars are in the works because vehicles with gasoline engines still make up the bulk of Nissan's models.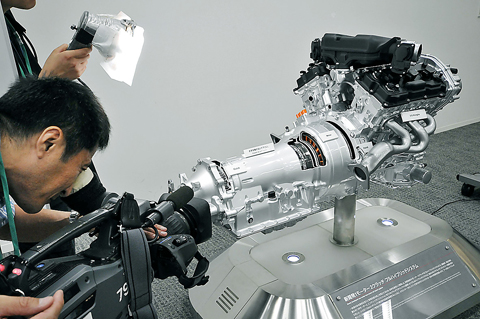 A TV cameraman videotapes Nissan Motor's new hybrid engine, consisting of a 3.5L V6 engine and an electric motor, in Yokohama, Japan, yesterday.
PHOTO: AFP
Among them are idling stop, which turns off the engine when the vehicle comes to a temporary stop such as at a traffic light and a unique way of injecting fuel into the engine to boost mileage.
The main attraction of the presentation at global headquarters was the hybrid technology for the Infiniti, sold as Fuga in Japan, which comes with two clutches, allowing the vehicle to coast along as an electric vehicle longer than if it came with one clutch.
The Infiniti M35 Hybrid would be Nissan's first mass-produced gas-electric hybrid.
Yokohama-based Nissan, allied with Renault SA of France, declined to disclose the mileage for the hybrid but said it will be comparable to a compact, which would translate to about double the mileage for a sedan.
Nissan did not give a price but promised it would be reasonable, saying the two-clutch hybrid system is relatively cheaper and simpler compared to rival hybrids, partly because it requires only one motor instead of two as in Toyota Motor Corp's hybrid system.
European rivals are working on hybrid technology similar to Nissan's.
Separately, Toyota's Prius ranked as Japan's top-selling car last month, clinching the No. 1 spot for the 14th straight month on the back of brisk demand for green vehicles.
Toyota Motor Corp sold 31,876 of the gas-electric cars last month, far outnumbering Honda's fuel-efficient Fit, which came in second place with 15,955 sales, the Japan Automobile Dealers Association said yesterday.
"Demand for the Prius remains very strong as consumers continue to opt for hybrid vehicles," association spokesman Yukio Kogoshi said. Tax breaks and government subsidies for environmentally friendly cars also helped boost sales for the Prius.
The Prius, now in its third generation since its 1997 introduction, is the best-selling hybrid in the world, with a total of 1.79 million sold, according to Toyota. Demand for the vehicle is so high in Japan that it has a three-month waiting list.
However, Toyota remains beset with quality problems. The world's No. 1 automaker on Monday began recalling nearly 92,000 Lexus and Crown model vehicles in Japan for an engine defect. It was part of a global recall affecting 270,000 cars.
Comments will be moderated. Keep comments relevant to the article. Remarks containing abusive and obscene language, personal attacks of any kind or promotion will be removed and the user banned. Final decision will be at the discretion of the Taipei Times.