FEATURE : Tannat opening doors for Uruguay's winemakers
Argentina has its Malbec. Chile has its Carmenere. Now Uruguay, not to be out-muscled by its more famous wine-producing neighbors, is taking the world of viticulture by storm, with its distinctive Tannat wines.
Uruguay, the fourth most important wine-producing country in South America, grows a variety of grapes, but none more celebrated than Tannat, which is fueling this tiny country's rise to prominence in the wine world.
Over the years, Tannat has come to be seen as the quintessential Uruguayan grape and wine, representing about 40 percent of the country's entire wine production.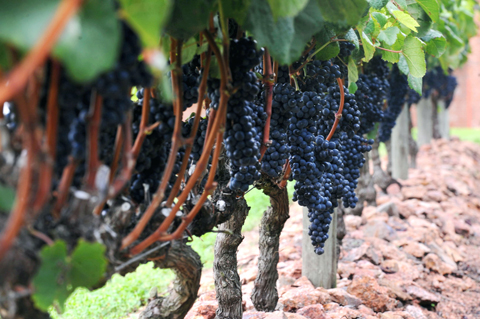 Grapes grow on the vine at a vineyard of the Bouza winery in Canelones, Uruguay, on March 4. WARNING: EXCESSIVE CONSUMPTION OF ALCOHOL CAN DAMAGE YOUR HEALTH
PHOTO: AFP
Now bold and full-bodied Tannat wines are putting upstart Uruguay on the map and winning prizes against competition fronted by more established regional rivals.
"Tannat is opening doors for us," winegrower Virginia Stagnari proudly said.
Her Italian immigrant family founded the Antigua Bodega Stagnari, some 20km north of Montevideo, one of the country's leading vineyards.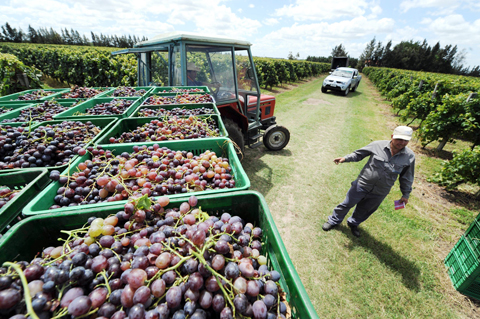 A worker loads grapes into boxes during a harvest at the Antigua Stagnari winery in Canelones, Uruguay, on Feb. 24. WARNING: EXCESSIVE CONSUMPTION OF ALCOHOL CAN DAMAGE YOUR HEALTH
PHOTO: AFP
Although Uruguay's wines are just beginning to gain a global foothold, it has a long history of viticulture, dating back some 250 years when French and Spanish immigrants brought the vine to the New World.
The hardy Tannat grape, originally from southeastern France, was introduced to Uruguay in 1870 by the Basque Frenchman Pascual Harriague, an immigrant who was looking for a varietal that would thrive in Uruguay's soil and climate.
Since the 1990s, Uruguay has been exporting high quality wine throughout Latin America, the US and even in the countries of the Gulf.
This tiny country of some 3.4 million inhabitants, dwarfed by its larger neighbors Brazil and Argentina, now enjoys a growing reputation as a producer of superlative wines for a reasonable price.
Some 8,200 hectares of vineyards have been cultivated by about 1,800 wine producers.
Stagnari said her family's vineyard was established in 1929 by her maternal grandfather, an immigrant from Italy, and today produces 140,000 liters of various types of wine, exporting every fifth bottle out of the country to destinations such as Brazil, Mexico, Belgium and Sweden.
Another highly regarded label here, Bouza, although barely a decade old, produces what are generally deemed to be some of this country's most exquisite wines, including not only Tannats, but varietals such as Albarino, Chardonnay and Merlot.
To obtain top quality wines "we have to expend a lot of man-hours," said the company's resident eonologist, Eduard Boido.
The quest for memorable wines also means "maintaining the biodiversity of the vineyard," Boido said, as well as cultivating the grapes "in parcels of land no larger than a half-hectare in size."
Small scale viticulture allows for quality control and ensures the "traceability" of each bottle — something that Uruguay's industry overseers INAVI, the national institute of wine culture, insists upon.
INAVI says Uruguay exported 1.2 million liters of wine in 2004, with a value of some US$3.3 million. In 2008, it sold 13.4 million liters valued at US$10.6 million.
Viniculture in Uruguay was dealt a major setback by the global financial crisis, however. Last year, it succeeded in selling only 2 million liters, valued at about US$6 million.
Uruguay expects to make up lost ground quickly now that the economic recovery is underway, but even the most avid oenophiles agree that Uruguay's wine industry will rise and fall on the quality of each individual bottle of ruby red Tannat.
Comments will be moderated. Keep comments relevant to the article. Remarks containing abusive and obscene language, personal attacks of any kind or promotion will be removed and the user banned. Final decision will be at the discretion of the Taipei Times.