Xerox aims to diversify with US$6.4bn takeover
TAILORING NEEDS Xerox will buy Affiliated Computer Services to boost efficiency after the need for reams of copies of legal documents ebbed since the credit crunch
Office equipment manufacturer Xerox is paying US$6.4 billion for an IT outsourcing firm in a takeover meant to broaden revenue and diversify from recession-hit sales of photocopiers, printers, paper and ink.
The deal for Affiliated Computer Services (ACS) is the largest in Xerox's history and will triple the size of the US group's consulting services arm, which helps business customers tailor technology needs.
"The combination of these two companies has been called for by our clients," Xerox chief executive, Ursula Burns said. "They're telling us more and more that we could bring the two companies together and help them become more efficient."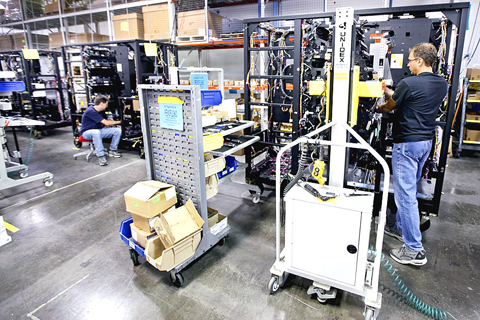 Marcus Amadio, right, assembles a Xerox Corp iGen4 print engine at the company's facility in Webster, New York, on Monday.
PHOTO: BLOOMBERG
Xerox, the world's biggest brand in copying, can trace its imaging history to the invention of the first xerographic image by a New York patent attorney, Chester Carlson, in 1938. The company coined the name Xerox from the Greek words for "dry" and "writing."
However, the Connecticut-based ­corporation has suffered in the recession as business customers cut back on spending on machines, paper and ink.
The credit crunch has cut the financial services industry's need for reams of copies of legal documents for mortgages, loans and other transactions.
Xerox's sales for the three months to June were down 18 percent to US$3.7 billion.
ACS, based in Dallas, will add 74,000 employees to Xerox's payroll of 54,000 people. It provides outsourcing services to a variety of industries ranging from government to healthcare, financial services and transport.
Xerox is paying for ACS through a mixture of cash and stock at US$63.11 per share. Xerox's stock plunged at the opening bell on Wall Street, falling by 17 percent to US$7.38.
The transaction is the first big move for Burns, who took over as chief executive in July.
The first black woman to head a Fortune 500 firm, she replaced Anne Mulcahy, who steered Xerox through an accounting scandal and a financial crisis at the start of the decade.
Comments will be moderated. Keep comments relevant to the article. Remarks containing abusive and obscene language, personal attacks of any kind or promotion will be removed and the user banned. Final decision will be at the discretion of the Taipei Times.