Ssangyong Motor staff return to work after unrest
Ailing South Korean automaker Ssangyong Motor resumed production yesterday after an 83-day hiatus caused by a crippling and violent strike, company officials said.
It took six days for a clean-up after police ended a 77-day occupation of the plant in protest at mass redundancies. More than 100 people were hurt in clashes last week, which left parts of the premises resembling a war zone.
"The passionate efforts by the staff and workers that enabled us to resume production today after only a week's preparation will serve as a great momentum for the company's turnaround," Lee Yoo-il, a court-appointed manager, said in a statement.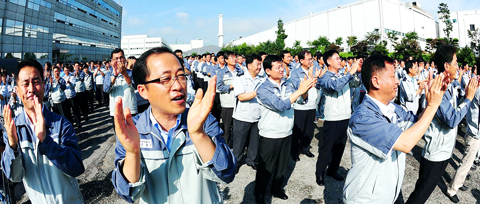 Ssangyong Motor Co workers applaud yesterday at a gathering in a show of their determination to get the company's operations back on track at its sole plant in Pyeongtaek, South Korea.
PHOTO: EPA/YONHAP
He said the company would complete a redundancy program and submit a rescue plan to creditors for their approval by Sept. 15.
"Learning from the past hurtful experience, we will try to find an outside investor who is interested in long-term development of the company," Lee said.
South Korea's smallest automaker received court protection from creditors in February in exchange for a turnaround plan that calls for massive layoffs and cost savings.
China's Shanghai Automotive Industry Corp retains a 51 percent stake in the company but lost management control when Ssangyong received protection from bankruptcy.
Unionists refusing to accept layoffs had battled riot police with giant catapults, firebombs and steel pipes at the plant in Pyeongtaek, 70km south of Seoul.
The violence clouded prospects for the carmaker's survival and cost nearly 316 billion won (US$258.3 million) in lost production.
Comments will be moderated. Keep comments relevant to the article. Remarks containing abusive and obscene language, personal attacks of any kind or promotion will be removed and the user banned. Final decision will be at the discretion of the Taipei Times.