Burger King launches 'Angry Whopper' in Japan
The Angry Whopper is arriving in Japan, a nation where the competition over hamburgers is as sizzling hot as the new spicy offering from US fast-food chain Burger King.
To make sure people got the message, Burger King Corp hosted an "angry shouting challenge" contest in downtown Tokyo yesterday, in which passers-by were invited to scream their frustrations away.
"I need to get a girlfriend," a man yelled at the top of his lungs in an effort to win the prize, a year's worth of Whoppers.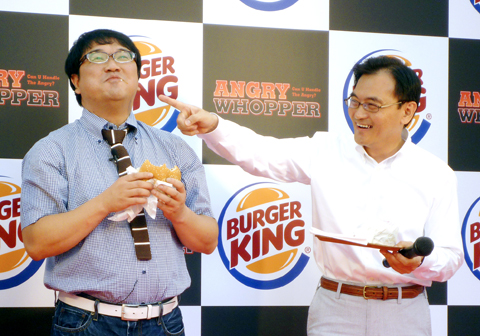 Burger King Japan president Hitoshi Arimoto, right, reacts as Japanese comedian Cunning Takeyama eats the Angry Whopper burger during a promotion of the US fast-food chain's new product in Tokyo yesterday.
PHOTO: AP
"Professor, give me my credits," exclaimed another.
The Angry Whopper, introduced in December in the US, has jalapeno chili peppers and hot sauce, as well as a burger patty, onions, cheese, bacon, tomatoes and lettuce on a sesame seed bun.
The ¥460 (US$4.90) burger, whose sauce has been slightly adapted to Japanese tastes, will be added, starting today, to the Japanese menu, which already includes the Double Whopper, Croissan'wich and Onion Rings.
Burger King Japan president Hitoshi Arimoto said it was the perfect flavor for riding out the economic downturn.
"The Angry Whopper is landing in Japan," he told a crowd in front of the 109 shopping complex in Shibuya, a district popular with trendy youngsters.
But Burger King, the world's No. 2 hamburger chain with 11,600 restaurants around the world, is a tiny player in Japan, with just 16 stores, mostly in Tokyo and surrounding areas.
It faces intense competition from McDonald's Corp, with 3,750 stores nationwide and 30,000 globally, as well as Japanese burger chains, like Lotteria Co, which are less known overseas.
Lotteria is gaining attention with a money-back campaign this month for its ¥360 Exquisite Burger if customers are unhappy with the taste.
Burger King withdrew from the Japanese market in 2001, partly after losing a price war with McDonald's, but returned to Japan in 2007, for another crack at the world's second-largest economy.
Food business consultant Jotaro Fujii says the competition in Japan's burger business is heating up because the nation now has a whole generation of people who grew up on McDonald's.
Fujii believes the big chance for success is in the restaurants that are springing up to serve gourmet burgers costing ¥1,000 each or more, targeting people in their 20s and 30s.
"McDonald's controls about 65 percent of the Japanese market," he said. "The new market is more expensive with patties about twice the size of a McDonald's burger."
Burger King is on the high-end of the cheap burger market that is McDonald's strength, he said.
McDonald's has been ­boosting sales each year in Japan after slashing prices on burgers and some dessert items to ¥100 since 2005. Sales were up 4 percent last year from the previous year, said McDonald's spokesman Kenji Kaniya.
Cunning Takeyama, a comedian at the Burger King event, stomped his feet and broke into a sweat after taking a few bites of the Angry Whopper.
"It's hot," he shrieked.
Comments will be moderated. Keep comments relevant to the article. Remarks containing abusive and obscene language, personal attacks of any kind or promotion will be removed and the user banned. Final decision will be at the discretion of the Taipei Times.