General Motors to end its joint venture with Toyota
General Motors Corp (GM) said on Monday it was ending its joint venture with Toyota Motor Corp at a Fremont, California, manufacturing plant, bringing to a close the first partnership of its kind between a US and foreign automaker as GM continues to downsize under bankruptcy.
The Detroit automaker said it was unable to reach an agreement with Toyota over a new product plan at the facility. The plant, called New United Motor Manufacturing Inc, or Nummi, currently makes the Pontiac Vibe station wagon for GM and the Corolla compact car and Tacoma pickup truck for Toyota.
GM announced it was phasing out the Pontiac brand earlier this year. The facility will cease production of GM vehicles in August, the company said. A Toyota spokesman said the Japanese automaker is weighing its next move for the plant, which employs about 4,600 workers.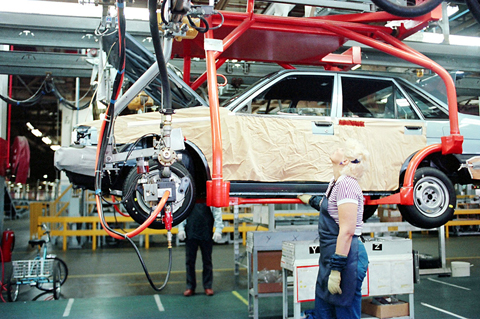 A worker inspects a car on the assembly line at the New United Motor Manufacturing Inc plant in Fremont, California, on April 4, 1985.
PHOTO: AP
He said Toyota was disappointed to see the partnership end, but declined to comment further, including on whether the plant would close.
GM's announcement on Monday brings to an end a partnership first established in 1984. One of its purposes was to have American workers learn Toyota's production methods, which were much leaner and more efficient. The factory has been the subject of numerous labor relations studies.
Nummi was also Toyota's first plant to build vehicles in North America. Toyota now has more than a dozen manufacturing facilities in North America, which build most of the company's US-sold vehicles.
Comments will be moderated. Keep comments relevant to the article. Remarks containing abusive and obscene language, personal attacks of any kind or promotion will be removed and the user banned. Final decision will be at the discretion of the Taipei Times.