Disney halts Hong Kong park plans
Disney has halted its much-­delayed expansion plans at the firm's Hong Kong theme park after failing to agree to a deal with the city's government, a spokesman said yesterday.
The US-based entertainment giant said the decision was made after lengthy negotiations had failed to agree on how to improve the attractions at the troubled Hong Kong Disneyland (HKDL).
"After two years of Disney investment in creative and design work and extensive negotiations with our partner, the Hong Kong government, we have not yet reached a final agreement to expand HKDL," Leslie Goodman, Disney's executive vice president of worldwide public affairs said in a statement. "The uncertainty of the outcome requires us to immediately suspend all creative and design work on the project."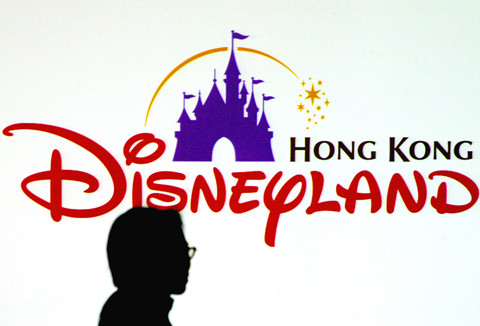 A journalist stands in front of the Walt Disney Hong Kong theme park logo prior to a press conference in Hong Kong on Nov. 22, 2004.
PHOTO: AFP
Goodman said the decision will mean around 30 Hong Kong-based "Imagineers," who plan, design and engineer the company's theme parks, will lose their jobs.
However, a spokesman for the Hong Kong Commerce and Economic Development Bureau said they were baffled by the decision.
"We consider that Disney's laying off of Imagineers, who have been working on the design of HKDL's expansion, will not be conducive to the discussions, and are puzzled by the company's decision," a spokeswoman said in a statement. "Disney has earlier informed the government of its lay-off plan and we have expressed grave concern about the decision and urged the company to re-consider."
The spokeswoman said the government, which owns 57 percent of the park, was still in discussions over the expansion plans and hoped to reach an agreement "as soon as possible."
Goodman insisted Disney remained committed to the long-term success of Hong Kong Disneyland.
Disney has been desperate to increase the number and quality of the attractions at the US$3 billion venue since it opened in 2005.
But the Hong Kong government has been reluctant to plow in any more cash after criticism that the initial deal was bad value for taxpayers and worries about visitor numbers, which have remained below expectations.
The parent company also announced in January that it was preparing to submit plans to the Chinese government to build a theme park in Shanghai, raising fears the firm's focus was shifting away from Hong Kong.
Comments will be moderated. Keep comments relevant to the article. Remarks containing abusive and obscene language, personal attacks of any kind or promotion will be removed and the user banned. Final decision will be at the discretion of the Taipei Times.