OIL: Oil rises on expectations of OPEC cut
TROUBLED DEMAND The bearish sentiment about oil has intensified in recent days, bringing the price of a barrel of crude down US$11 to a 14-month low
Oil prices recovered some ground on Friday, rallying above US$71 a barrel on speculation that OPEC could slash output in an effort to stop crude's downward spiral.
Light, sweet crude for November delivery rose US$2 to settle at US$71.85 a barrel on the New York Mercantile Exchange after earlier rising as high as US$74.30. On Thursday, prices lost US$4.69 to settle at US$69.85 a barrel.
Oil is now down US$75 — or 51 percent — since catapulting to a record high of US$147.27 on July 11.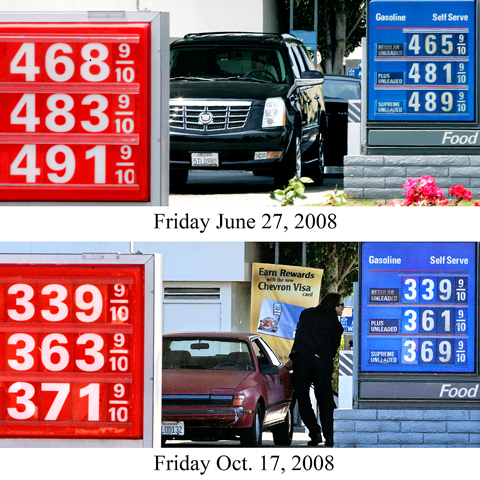 In this combination photograph, gas prices are pictured at adjacent stations in Santa Monica, California, on Friday, June 27, and Friday this week.
PHOTO: AP
In London, December Brent crude rose US$1.76 to settle at US$69.60 a barrel on the ICE Futures exchange.
The bearish sentiment around oil has grown more feverish in recent days, lopping more than US$11 off prices in the previous three trading sessions alone. A barrel of crude hasn't been this cheap in almost 14 months.
The pullback comes as a widening economic slowdown forces a wholesale contraction in US energy demand: Americans are driving less, airlines are keeping more planes on the ground and businesses are ramping down operations.
Worried about the financial fallout of the oil price drop, the OPEC, which controls 40 percent of the world's oil supply, called a special meeting for next Friday in Vienna, Austria to address the slide. Underscoring the cartel's anxiety, it moved up the date of the meeting by nearly a month.
An Iraqi lawmaker said on Friday the government expects to cut its budget next year by US$15 billion because of falling oil prices. Abbas al-Bayati, a senior lawmaker of the United Iraqi Alliance, the largest Shiite bloc in parliament, said the recent plunge would cut into earlier budget estimates, which were made when crude was hovering around US$120 a barrel.
Analysts say OPEC could decide to trim output by as much as 1 million barrels a day in a bid to halt the slide, in addition to a 500,000 barrel per day cut announced last month.
That may have led some traders to bid up oil on Friday, though any rally will likely be short-lived given the rapidly waning appetite for petroleum products, said Addison Armstrong, director of market research at Tradition Energy in Stamford, Connecticut.
"Demand is really in trouble," Armstrong said. "Every week we get figures showing falling US demand for energy. European demand is just beginning to turn down, and all indications are that China is in for a significant economic downturn."
"We could have prices in the low US$60 range very soon," he said.
Still, some analysts say crude's decline has been overdone amid the panicked selling in world equity markets.
"Even in a dire economic situation, a lot of energy use isn't discretionary, so I expect prices to bounce back at some point," said Gavin Wendt, head of mining and resources research at consultancy Fat Prophets in Sydney.
In other NYMEX trading, heating oil futures rose US$0.461 to settle at US$2.1569 a gallon, while gasoline futures rose US$0.441 to settle at US$1.661 a gallon. Natural gas for January delivery rose US$0.91 to US$7.306 per 1,000 cubic feet.
Comments will be moderated. Keep comments relevant to the article. Remarks containing abusive and obscene language, personal attacks of any kind or promotion will be removed and the user banned. Final decision will be at the discretion of the Taipei Times.