'Price Butcher' Huang tops China's rich list
A 39-year-old appliance tycoon known as the "Price Butcher" is China's richest man, a list published yesterday showed, reflecting how plummeting stock and property prices have slashed fortunes.
Huang Guangyu (黃光裕), whose Gome (國美) chain of consumer electronics stores earned him the nickname "China's Sam Walton," a reference to Wal-Mart's founder, topped Hurun Report magazine's annual rich list with US$6.3 billion in assets.
In a sign of the times, last year's No. 1, 27-year-old female property developer Yang Huiyan(楊惠妍), slipped to third after her mostly inherited fortune shrank to US$4.9 billion from US$17.3 billion last year.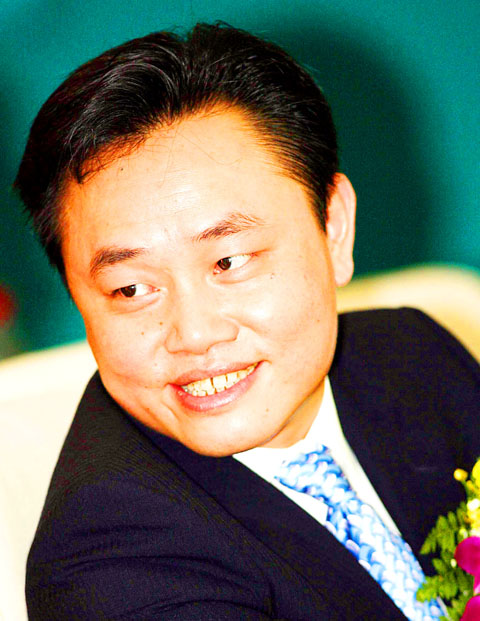 Huang Guangyu smiles on Nov. 21, 2006. The 39-year-old appliance tycoon is China's richest man, the "Hurun Report" said yesterday.
PHOTO: AFP
The number of Chinese billionaires also fell to 91 from 106 last year, according to the list, which a year ago was compiled when the stock market was at an all-time high. It has since lost about two-thirds of its value.
Despite a tumultuous year, the list showed the phenomenal growth of personal wealth in a country that has seen its economy expand by double digits for five consecutive years.
When publisher Rupert Hoogewerf, who previously compiled the Forbes rich list, first created the ranking a decade ago only 50 were listed with US$6 million or more. Hurun is the Chinese name used by Hoogewerf, a trained accountant.
It is the third time Huang — known for his bargain prices — has topped the list. He was also No. 1 in 2004 and 2005.
Huang, a high school drop-out, started building his fortune when he was 16, with a roadside stall in Beijing selling radios and gadgets that he bought from factories near his hometown in Guangdong Province.
The Hong Kong-listed Gome Group is now China's largest consumer electronics chain with 828 stores in nearly 200 cities.
Huang has also ventured into private equity as head of the Beijing-based Pengrun Investment (鵬潤投資) company.
Steel tycoon Du Shuanghua (杜雙華), 43, was No. 2 on this year's list with an estimated fortune of US$5.1 billion.
Du, head of Shandong-based Rizhao Steel Group (日照鋼鐵集團), did not rank in the top tier on last year's list — underlining how quickly fortunes can change in China.
Comments will be moderated. Keep comments relevant to the article. Remarks containing abusive and obscene language, personal attacks of any kind or promotion will be removed and the user banned. Final decision will be at the discretion of the Taipei Times.