Protests rock Asia as fuel prices soar
HEAVY BURDEN Thai drivers, farmers and fishermen repeated their call for subsidies to alleviate their plight, while Filipino drivers brought traffic near Malacanang to a halt
Tens of thousands of heavy truck operators yesterday threatened to cause havoc in Bangkok, while Thai fishermen began burning their boats in nationwide protests against soaring prices of fuel and other essentials.
In the Philippines, hundreds of trucks and mini-buses blocked roads leading to the presidential palace yesterday to demand the lifting of sales tax on fuel products.
The Thai government has until Tuesday to subsidize fuel for truckers or face at least 100,000 vehicles rumbling into already traffic-clogged Bangkok, said Thongyoo Khongkhan, secretary-general of the Land Transport Federation of Thailand.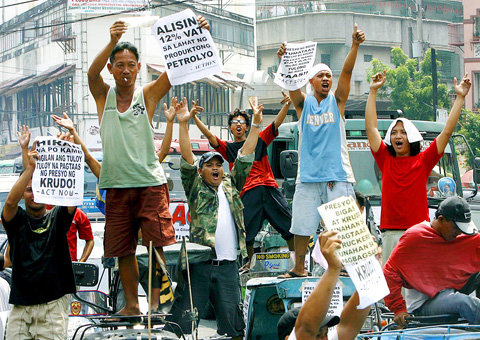 Filipino drivers holding placards shout slogans during a motorcade protest near Malacanang, the presidential residence, in Manila, Philippines, yesterday.
PHOTO: EPA
Also protesting or planning to stage demonstrations in the heavily agricultural nation were garlic, cabbage and rice farmers, along with fishermen.
A government spokesman said money has been allocated to subsidize some costs of the farmers, fishermen and transport workers.
"The government is trying its best to reduce the immediate problem of the various groups of protesters," Natawut Saikau said.
"The ongoing protests are not affecting the stability of the government but merely affecting the feelings of the people," he said.
Prices for some commodities, such as rice, have risen because of greater worldwide demand, but farmers complain that these have been offset by skyrocketing inflation spurred by soaring fuel prices.
Thongyoo said a half-day strike on Wednesday by truckers, who parked their vehicles on highways across the country, was only a prelude to next week's possible push into Bangkok.
"Yesterday we merely showed our power by parking the trucks on the roads, but if the government fails to meet our demand, the federation has decided to make June 17 D-day when we will bring at least 100,000 trucks into Bangkok," Thongyoo said.
The federation demands that the government sell diesel to them for 3 baht (US$0.09) less than the market price per liter and allocate funds to the federation to convert truck engines from diesel to cheaper natural gas.
Mana Sripitak, president of the Fishing Federation of Thailand, said that more than half of the 50,000 fishing boats under its wing are being kept ashore because of the high cost of diesel.
Some fishermen have burned their boats in protest, he said, as the federation negotiated with the government for subsidies.
In Manila, traffic ground to a halt near Malacanang Palace as a phalanx of anti-riot police officers stopped a long convoy of trucks and mini-buses from reaching the country's seat of power. About 500 tricycles joined the protest.
The protesters, displaying placards and streamers, called on Philippine President Gloria Macapagal Arroyo to remove a 12 percent sales tax on all petroleum-based products as well as provide more subsidies to the poor.
Gasoline prices in the Philippines are not subsidized and have risen 14 times since the start of the year for a total increase of about 24 percent. Pump prices for unleaded gasoline are now about 55 pesos (US$1.20) per liter from 44.50 pesos in January.
"We cannot afford to celebrate with those who commemorate our freedom," Dante Lagman, the leader of a transport group, said in a statement referring to the fact that yesterday was the country's Independence Day.
In Kuala Lumpur, opposition groups yesterday vowed to push ahead with plans for mass protests against a sharp 41 percent hike in gasoline prices, despite the government's pledge not to further raise prices this year.
The price hike last week has sparked sporadic protests nationwide. Malaysian Prime Minister Abdullah Ahmad Badawi sought to calm public anger, promising yesterday to keep prices fixed at the current level for the rest of the year.
Shamsul Iskandar Akin, a leader of the GERAMM youth coalition against oil price hike, dismissed Abdullah's pledge and said the hike had led prices to rise across the board and caused further hardship for the poor.
Malaysia as a net oil exporter, benefits from rising global oil prices and people are questioning why profits from national oil firm Petronas aren't used as subsidies, he said.
"The government's action [to raise prices drastically] is crazy," he told reporters. "It shows their failure in managing the economy."
"We will continue with peaceful protests to demand the government reverse its decision," he said.
A march is planned today from a mosque in downtown Kuala Lumpur to the Petronas Twin Towers, where Petronas headquarters is based, he said.
GERAMM and PROTES, another anti-inflation coalition of opposition parties and non-governmental groups, also hope to gather a million people for the largest mass demonstration in Kuala Lumpur next month, he added.
Police has warned it would take action against protesters. Any gatherings of more than four people requires a police permit.
Comments will be moderated. Keep comments relevant to the article. Remarks containing abusive and obscene language, personal attacks of any kind or promotion will be removed and the user banned. Final decision will be at the discretion of the Taipei Times.