Toyota warns of annual profit drop
STORM AHEAD While Toyota remained on track to overtake GM in auto sales, it said that a credit crunch, surging costs and a weak dollar could weigh on profits
Toyota Motor Corp warned yesterday that it expected its first drop in annual profits in nine years amid a weak US economy, a stronger yen and soaring raw material costs.
Japan's largest automaker reported another record performance for the fiscal year just ended in March on the back of brisk demand in emerging markets such as Brazil, Russia, India and China.
Toyota, on course to overtake Detroit giant General Motors (GM) as the world's top selling automaker, posted a 4.5 percent rise in annual net profit to ¥1.72 trillion (US$16.4 billion).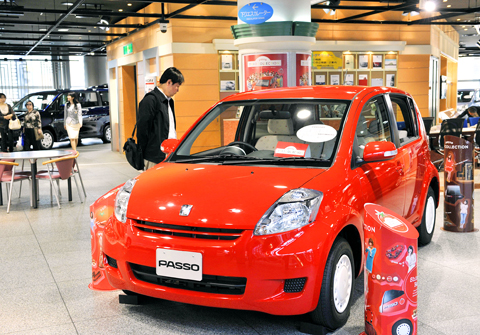 A customer checks a vehicle at a Toyota showroom in Tokyo yesterday.
PHOTO: AFP
Operating profit increased 1.4 percent to ¥2.27 trillion as revenue climbed by 9.8 percent to ¥26.29 trillion, both all-time highs, a company statement said.
Japanese automakers have enjoyed brisk profits in the US market, helped by firm demand for fuel-efficient cars and a weak yen.
But a credit crunch, the surging cost of steel and other raw materials, and a falling dollar are now weighing on their earnings prospects.
"We are facing a severe business environment," Toyota president Katsuaki Watanabe said in the earnings statement.
Toyota forecast a 27.2 percent plunge in net profit to ¥1.25 trillion in the current fiscal year ending next March.
It sees a 29.5 percent drop in annual operating earnings to ¥1.6 trillion and a 4.9 percent fall in revenue to ¥25 trillion.
"It's going to be the first year-on-year decline in nine years, which really suggests that even for Toyota the current situation is very, very tough," Credit Suisse auto analyst Koji Endo said.
"The US market is slowing down and even Toyota seems to be facing a very tough time selling their light trucks. Raw material costs — especially steel, precious metals and plastics — are going up and that's probably going to be very significant this year," Endo said.
Toyota said it sold 8.91 million vehicles last year, up 389,000 from the previous year, despite a drop in Japan where a shrinking population is weighing on the market.
"Improved profitability in Asia has become an important driver for Toyota's strong growth," the automaker said.
North American vehicle sales, which had been strong for Toyota in the past, fell for the last fiscal quarters, the company said.
Toyota shares slid 1.8 percent to ¥5,480 in Tokyo yesterday. The results were released just as the market closed.
Comments will be moderated. Keep comments relevant to the article. Remarks containing abusive and obscene language, personal attacks of any kind or promotion will be removed and the user banned. Final decision will be at the discretion of the Taipei Times.