Iran predicts oil prices to hit US$200
BULL RUN Oil prices held steady as investors bet on the market's upward momentum and ignored figures showing a rise in US crude and gas supplies
Iran's oil minister has predicted the price of oil will rise to US$200 per barrel in the near future, the official IRNA news agency reported yesterday.
Oil prices jumped to a record near US$124 a barrel for the first time this week.
"The time when the price of oil is US$200 a barrel is not far," IRNA quoted minister Gholam Hossein Nozari as saying.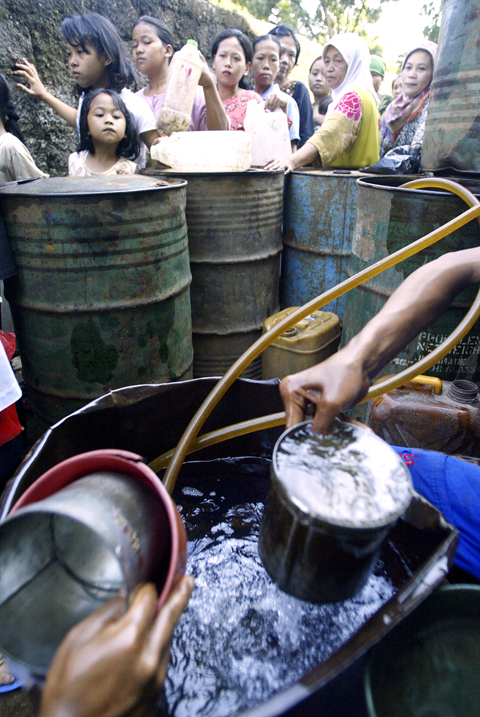 Women line up to buy subsidized kerosene, which many households use to cook, in Bogor, Indonesia, yesterday. The Indonesian government announced on Monday that it would cut subsidies in the coming weeks on a range of fuel products to avoid a massive budget deficit amid soaring world oil prices.
PHOTO: AP
He attributed the rise in oil so far partly to difficulties in production in Nigeria and said it was also the result of the dollar's weakening against other currencies.
"In fact oil has not been expensive, the dollar has been weak," he said.
Iran is OPEC's second-largest producer.
Oil prices in Asia were steady yesterday after jumping to a record near US$124 a barrel as investors captivated by the market's upward momentum seemed to ignore figures showing an increase in US crude and gasoline supplies.
Analysts attributed oil's rise to continued buying from the surge that pushed prices past US$120 for the first time earlier this week.
The fact that prices didn't decline sharply after the weekly US inventory report signaled to some investors that the market was ripe for another rally.
"The bulls are in control and there's a lot of momentum driving the oil price up," said Victor Shum, an energy analyst with Purvin & Gertz in Singapore. "Participants now tend to focus on only the bullish elements of the news out there."
By midafternoon in Singapore, light, sweet crude for delivery next month fell US$0.28 to US$122.25 a barrel in electronic trading on the New York Mercantile Exchange. The contract rose US$1.69 on Wednesday to a record finish of US$123.53 a barrel. It later jumped to a trading record of US$123.93 a barrel in the electronic session.
Oil prices at first waffled on Wednesday as traders were torn between relief that crude and gasoline supplies are rising and worries about rising demand and falling distillate stockpiles.
"Another example of ... zeroing in on the bullish news is this inventory report out of the US," Shum said.
The US' Energy Information Administration said in a weekly report that inventories of distillate fuels, which include diesel and heating oil, fell unexpectedly, while gasoline demand rose slightly last week. Traders chose to focus on those numbers and shrug off crude inventories, which rose much more than analysts predicted, and gasoline supplies, which increased when expected to decline.
Some evidence that investors were buying simply to keep up with the market's momentum came from the fact that a stronger dollar has had little or no impact on trading.
"The trading mantra that we observed the last few months between the movement of the US dollar and oil price movements appears not to hold water the last few days," Shum said.
Comments will be moderated. Keep comments relevant to the article. Remarks containing abusive and obscene language, personal attacks of any kind or promotion will be removed and the user banned. Final decision will be at the discretion of the Taipei Times.