Malaysian court dismisses high-profile graft case
ANTI-CORRUPTION DRIVE The wheelchair-bound former head of Perwaja Steel had been accused of dishonestly authorizing a huge payment to Japan's NKK Corporation
The former head of Malaysia's national steel company was yesterday acquitted of embezzling more than US$20 million after a court ruled that the prosecution failed to prove a prima facie case.
Singapore-born, 74-year-old Eric Chia (謝英福) was the focus of a lengthy investigation into the payment of 76.4 million ringgit (US$22.1 million) from Perwaja Steel to Japan's NKK Corporation through a non-existent company in 1994.
"As a conclusion I would say ... in this case the court was deprived of making this maximum evaluation as the material witnesses were not even called," sessions court judge Akhtar Tahir said.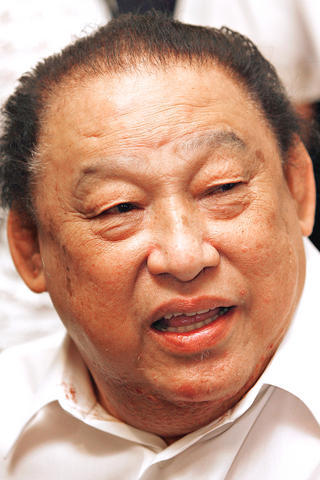 PHOTO: AFP
"I have decided that the prosecution has failed in proving a prima facie case against the accused on both the main and the alternative charge. The accused is therefore acquitted and discharged for both the main and alternative charge," he added.
The alternative charge referred to Chia disposing of the funds by entering into an agreement with NKK Corporation and authorizing the payment of the 76.4 million ringgit without the approval of the board of directors or tender committee of Perwaja.
The wheelchair-bound Chia said: "Truth has prevailed, but the allegation has broken my family."
"My son had to go to the United States and my daughter to Hong Kong in search of work because of shame. I was a victim of slander. It has ruined my family. I live alone here [in Malaysia]. It has broken my family and even my friends have stayed away from me," he said.
Chia said he accepted the job with Perwaja because former prime minister Mahathir Mohamad pressed him to take it in 1988.
"Mahathir told me: `You came to Malaysia from Singapore with five ringgit. This country has blessed you. Now it is your duty to serve the country,'" he said.
"After 11 long years, I now feel vindicated. Yes, I can move on now with my life. But I have a broken family. My children can't come back. This is my country and I will live and die here," he said.
On May, 1996, Chia was blamed in parliament for the losses suffered by Perwaja.
Chia's counsel Muhammad Shafee Abdullah said he expected the prosecutors to appeal.
The trial opened in August 2004, and Chia was the first prominent person to be charged with corruption since Prime Minister Abdullah Ahmad Badawi took power in October last year from Mahathir Mohamad, pledging to root out corruption.
Chia was handpicked by Mahathir in 1988 to turn Perwaja around when it ran into financial difficulties six years after it was set up as the cornerstone of Malaysia's industrialization drive.
He resigned in 1995 and Perwaja was declared insolvent the following year, saddled with debts and losses totaling 10 billion ringgit.
Chia's arrest capped one of the most drawn-out probes ever conducted by the Anti-Corruption Agency (ACA) and appeared to reflect Abdullah's pledge to battle corruption, analysts said.
The ACA investigation zeroed in on the payment made by Perwaja through the non-existent Frilsham Enterprises for "consultancy fees" to NKK for a project in Gurun, in the northern Kedah state, that eventually went into overseas bank accounts.
Comments will be moderated. Keep comments relevant to the article. Remarks containing abusive and obscene language, personal attacks of any kind or promotion will be removed and the user banned. Final decision will be at the discretion of the Taipei Times.