Airbus scoops big orders in Paris
TAKING OFF Airbus SA announced purchases from clients such as Qatar Airways, Emirates and S7, while Boeing Co publicized orders from Lion Air and GECAS
Airbus fired the first shots at the Paris Air Show yesterday, a vital battleground for the European plane maker and its US rival Boeing, with news of big orders from Middle Eastern clients.
Qatar Airways, Kuwait's Jazeera Airways and Dubai-based Emirates, as well as the Russian airline S7 announced new business for the European manufacturer, which is looking to shore up confidence in its aircraft following production and design problems.
By lunchtime at the Paris event, Airbus had announced orders and agreements worth more than US$30 billion amid a public relations blitz that included another giant deal with US Airways.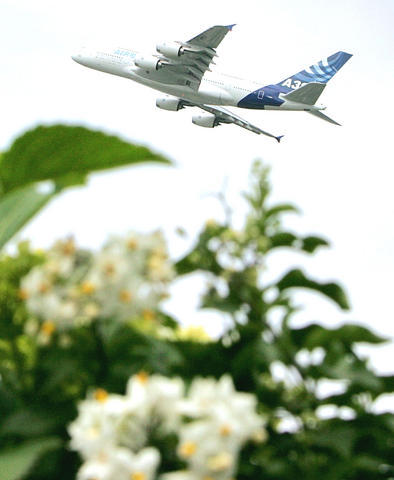 The new Airbus A380 performs a demonstration flight on the first day of the 47th Paris Air Show in Le Bourget, France, yesterday. The world's biggest airshow is bigger than ever this year, reflecting a growth in global air traffic.
PHOTO: AP
The week-long Paris Air Show sees Airbus and Boeing, the world's biggest manufacturers of civilian aircraft, go head-to-head in a commercial and marketing contest.
The companies use the event, which features deafening air displays as well as deal-making, to clinch new business and announce orders for their latest aircraft.
Despite appearances, the European group lags far behind its US rival Boeing for new orders this year and recently launched a radical restructuring plan after making a loss for the first time in its history last year.
At the end of last month, Airbus had reported 201 new orders for planes this year, while Boeing had 429 at the beginning of this month.
Among the Airbus deals that were announced yesterday, Qatar Airways said it would buy three A380 superjumbos and confirmed a previously announced order for 80 mid-sized A350s.
Emirates is to buy eight more A380s, and Jazeera Airways placed a firm order for 30 single-aisled A320 planes.
S7, the second biggest Russian airline after Aeroflot, also signed a firm order for 25 Airbus A320 single-aisle planes. The order is worth US$1.8 billion, and the short-haul jets are to be delivered starting in 2009, Airbus said.
Separately, US Airways announced it had signed a letter of intent to buy 92 Airbus aircraft, including 22 mid-sized A350 planes.
Boeing, whose 787 mid-sized plane has so far eclipsed the A350, was expected to hit back at Airbus with news of jumbo orders later yesterday or during the week.
The US firm announced yesterday that Indonesian airline Lion Air had placed a firm order for 40 additional single-aisled Boeing 737-900 ER planes worth more than US$3 billion at catalogue prices.
Aircraft leasing group GECAS also said yesterday that it had placed a firm order for six Boeing 777 cargo aircraft.
The Paris Air Show began yesterday for industry professionals, but opens its doors to the public for three days from Thursday.
About 400,000 people are expected to visit the event at the Le Bourget airfield on the outskirts of Paris.
Comments will be moderated. Keep comments relevant to the article. Remarks containing abusive and obscene language, personal attacks of any kind or promotion will be removed and the user banned. Final decision will be at the discretion of the Taipei Times.