Japan Airlines plans to cut 4,300 jobs
CLOUDY SKIES The airline said it would lay off about 8 percent of its workforce over three years as part of a plan battling against high oil prices and sluggish demand
Japan Airlines Co (JAL) announced yesterday that it will cut 4,300 employees, or about 8 percent of its entire work force, by the end of fiscal 2009 after it reported a net loss for the most recent quarter.
Japan's No. 1 carrier is still struggling to regain customer confidence after a spate of safety lapses in recent years have prompted passengers to opt instead for rival All Nippon Airways.
JAL reported a net loss of ¥10.8 billion, or US$89.9 million, in the October-December quarter, slightly less than than the ¥11 billion loss it recorded for the same period in 2005.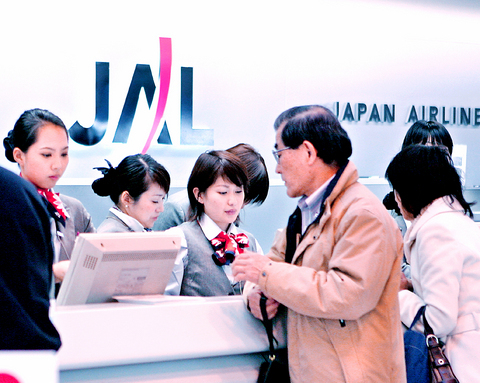 Japan Airlines ground staff give tickets to customers at a counter of Tokyo's Haneda Airport yesterday. The airline said it would cut about 8 percent of its entire work force by the end of fiscal 2009.
PHOTO: AFP
Quarterly sales rose 4.9 percent to ¥584.1 billion, from ¥556.9 billion a year ago.
Cargo traffic from Japan to China was strong, but was weak to the US in the latest quarter. Tourism to Guam and Hawaii was stagnant, and poor snowfall caused a drop in domestic ski travel, JAL said.
Later yesterday, JAL said it would cut 4,300 employees from its payrolls by March 2010 from the current 53,100 as part of its four-year business plan. It has also been scrapping flights and trimming other costs to turn around its sagging business.
The company expects to cut ¥50 billion in annual labor costs beginning fiscal 2007 from the current fiscal year.
Soaring fuel costs continue to be a problem, JAL said, although oil prices have eased since October. The average price for jet fuel over the nine-month period from last April was US$81.9 per barrel, a price that's unprecedented, it said.
The airline is taking up fuel hedging and fuel consumption reductions, but the fuel bill during the nine months was up 12.8 percent at ¥320.4 billion from the same period a year earlier, it said.
JAL suffered a huge net loss of ¥47.2 billion in the fiscal year through last March on soaring fuel prices and weak passenger demand.
The airline has been trying to regain travelers' confidence after a series of embarrassing safety lapses since 2005, including an engine fire.
No one has been injured in the Japan Airlines incidents, but wheels have fallen off during a landing, a flight took off with a faulty latch and a flight was forced to return shortly after takeoff when a cockpit window cracked.
JAL left its profit outlook for the fiscal year ending March 31 unchanged at a ¥3 billion group net profit but lowered its sales projection to ¥2.27 trillion from an earlier ¥2.28 trillion.
The fuel price crunch has hit rivals, but ANA has been reporting strong revenue on the back of JAL's image problems. ANA profits for the third quarter slipped 8.5 percent due to high jet fuel prices and extra costs for the disposal of aircraft and equipment.
For the first nine months of fiscal 2006, JAL posted a ¥9.3 billion loss, an improvement over the ¥23 billion loss racked up over the same period in fiscal 2005.
Comments will be moderated. Keep comments relevant to the article. Remarks containing abusive and obscene language, personal attacks of any kind or promotion will be removed and the user banned. Final decision will be at the discretion of the Taipei Times.