Intel market share for PC processors hits 11-year low
Intel Corp's share of the market for PC processors dropped to its lowest in 11 years during the fourth quarter as the chipmaker lost orders to Advanced Micro Devices (AMD) Inc.
AMD's market share reached 25 percent, up from 22 percent a year earlier, according to Dean McCarron, an analyst at Cave Creek, Arizona-based Mercury Research. Taiwan's Via Technologies Inc (威盛電子) took less than 0.5 percent of the market when measured by units, and Intel had the remaining 75 percent.
The gains by AMD represent a "dramatic" shift in competition after Intel's smaller rival expanded its product line and tackled the high end of the market, McCarron said. Intel, the world's largest semiconductor maker, gave up ground in chips for desktop and notebook PCs.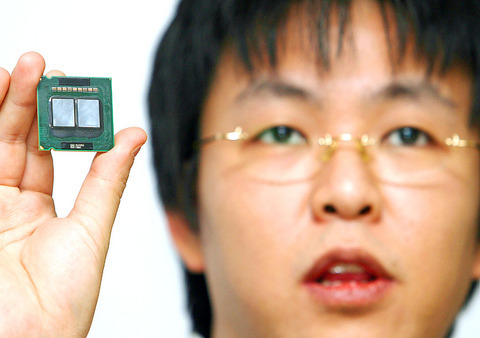 Takeshi Kajiwara, manager of Intel Japan's digital home marketing consumer program, displays the company's latest Core 2 Extreme QX6700 processor during Dell Japan's high-end PC press preview in Tokyo on Jan. 10. Intel has been losing orders to Advanced Micro Devices, which has increased its market share to 25 percent, analysts said.
PHOTO: AFP
"It's not the partial competition that existed with AMD in one product segment and AMD competing at the bottom," McCarron said in an interview.
Until the 2003 release of Opteron, a chip for server computers, AMD mainly competed with Intel in desktop processors by trying to undercut its larger competitor on price.
The battle is costing both companies. Intel forecast on Jan. 16 that gross margin, the percentage of sales remaining after deducting production costs, will narrow to about 50 percent this year, missing analysts' estimates. That's down from an average 58 percent in 2003 through 2005 and 51.5 percent last year.
AMD said on Jan. 23 that its fourth-quarter gross margin narrowed to 36.1 percent from 46.4 percent a year earlier and 51.4 percent in the third quarter.
To regain share, Intel replaced its seven-year-old Pentium design last year with the Core 2 Duo model that generates less heat and runs more efficiently. Intel CEO Paul Otellini said this month that he planned to keep fighting for a bigger piece of the US$29 billion market for PC processors.
"I continue to believe that Intel's shareholders are best served by using its capacity to retake market share," he said on conference call after reporting a 39 percent drop in the company's fourth-quarter profit.
Intel won back about 1 percent of the market in server processors in the three months through December, while AMD added 2.5 percentage points of market share in both notebooks and desktops, McCarron said.
The Core 2 Duo was first introduced in Intel's server products and helped the company win back orders in that market. AMD plans to introduce the first major update to its server line by the middle of this year and says the product, called Barcelona, will retake the lead in performance.
Comments will be moderated. Keep comments relevant to the article. Remarks containing abusive and obscene language, personal attacks of any kind or promotion will be removed and the user banned. Final decision will be at the discretion of the Taipei Times.