US carmakers in retreat at show
The world's biggest auto show revs into top gear this weekend with US carmakers facing a tough job to protect their home turf from determined Asian challengers.
Japanese makers Toyota, Honda and Nissan, and South Korea's Hyundai, are all planning major introductions of new models as they seek to whittle away further at the dwindling market edge enjoyed by the Detroit giants.
"Given the business climate, it's probably going to be a rather somber affair," Dennis Virag, president of the Automotive Consulting Group, said ahead of the press launch on Sunday of this year's North American International Auto Show.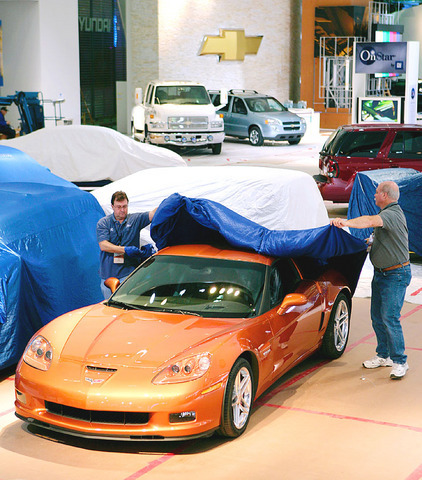 Workers cover a Chevrolet Corvette to keep the dust off it as preparations for the North American International Auto Show continue on Tuesday in Detroit, Michigan.
PHOTO: AFP
"The domestic carmakers are in retreat and the question is when and where they are going to be able to put up a defense," Virag said.
David Cole, director of the Center for Automotive Research, said much of the focus at the Detroit show will be on the bottom lines of General Motors and Ford, rather than their new offerings.
"The business side will be pretty dominant. Last year the focus was on whether General Motors would go bankrupt. This year, Ford seems to be in the hot seat," Cole said.
Both GM and Ford are laying off thousands of workers and shuttering plants as they seek to shore up their embattled businesses.
Toyota looks on course to surpass GM as the world's leading automaker in production terms this year.
The US carmakers are all planning significant introductions at the two-week show, which marks the centennial of the first auto exhibition organized in Detroit in 1907.
GM is banking on the Chevrolet Malibu to help win it back market share in the crucial mid-sized market segment. Ford will show off a four-door Mustang that the company has dubbed a concept version of its legendary muscle car.
The Chrysler Group, part of the German-US company DaimlerChrysler, will show off its new minivans and production cars such as the Dodge Avenger.
Toyota plans to show off several vehicles, including a new pickup truck, a sports car with a hybrid engine and a sporty new luxury sedan, as well a high-end concept vehicle from its Lexus marque.
Honda, which last year scooped the honors in Detroit for the year's best car and truck in North America, will reveal a coupe version of the popular Honda Accord.
Meanwhile, Nissan is bringing out a new small crossover vehicle called the Rouge, based on a Renault-engineered chassis.
For strategic reasons, Germany's Volkswagen is not unveiling any new models in Detroit but both BMW and DaimlerChrysler unit Mercedes-Benz will have a full array of vehicles on hand at the show.
One of the most intriguing offerings will be the Mercedes group's tiny "smart fortwo," a two-seater hit in the heavily congested streets of Europe that is to go on sale in the US in early 2008.
"Manufacturers want to have a broad portfolio because nobody knows whether gas is going to US$1.50 per gallon or US$3.50 dollars per gallon [3.8 liters]," Cole said.
Fuel economy has become much more important as US drivers turn away from pickup trucks and sport utility vehicles, said Alexander Edwards, president of Strategic Vision's automotive consultancy.
That is bad news for GM and Ford, which remained wedded to their heavier vehicles for too long, he noted.
"The Asians started 10 or 15 years ago doing a great deal, focusing on safety and security by offering vehicles with more durability and reliability," he said.
Comments will be moderated. Keep comments relevant to the article. Remarks containing abusive and obscene language, personal attacks of any kind or promotion will be removed and the user banned. Final decision will be at the discretion of the Taipei Times.