China's congress reviews private property law
Parliament yesterday took up measures meant to bring Chinese law into line with a more open, capitalist-style economy by protecting private property and equalizing taxes for foreign and domestic companies.
The proposed property law is the most controversial measure to come before the National People's Congress (NPC) in recent years. Earlier versions prompted an outcry by leftists, who complained it would undermine state control of the economy and worsen the growing gap between an elite who have profited from China's reforms and the poor majority.
The NPC began considering a seventh draft yesterday that "strikes a balance between private property and state ownership," said the official Xinhua news agency. It said backers hoped to pass it when the NPC holds its next full meeting in March.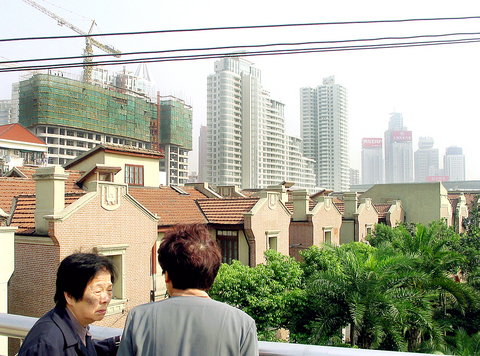 Modern high-rise apartments stand behind traditional houses in Shanghai on Oct. 21, 2003. A law to protect private property in China took a step closer to approval yesterday as lawmakers began debating the newest draft version of the legislation.
PHOTO: AP
The Chinese Communist Party amended the Constitution in 2004 to enshrine private property rights for the first time since its 1949 revolution. That followed two decades of reform that let hundreds of millions of Chinese lift themselves out of poverty.
The debate over legal changes meant to enforce such protections highlights enduring concern about the impact of rapid but uneven growth, which has set off protests over poverty, taxes and seizures of farmland for redevelopment.
The government of President Hu Jintao (胡錦濤) says it is committed to more reforms while trying to ease social tensions. Beijing has promised to spread prosperity from China's booming eastern cities to the countryside and urban poor.
The property law, first proposed five years ago, was withdrawn from parliament during its last full meeting in March in an unusual reversal by the government after lawmakers failed to agree on its wording.
Xinhua said opposition faded after a new draft enshrined government ownership "at the heart of the economic system."
Also yesterday, lawmakers took up a proposed law to equalize tax rates paid by Chinese and foreign companies, many of which qualify for lower taxes due to incentives meant to attract investment.
Finance Ministry Jin Renqing (金人慶) told lawmakers "a unified tax code will create a taxation environment that favors fair competition among all ventures registered in China," Xinhua reported.
Private businesses complain that breaks granted to foreign firms are hurting entrepreneurs. The proposed law would unify tax rates at 25 percent, Xinhua said. It said that when various tax breaks are taken into account, the average Chinese firm pays taxes at a 24 percent rate, while foreign firms pay 14 percent.
Comments will be moderated. Keep comments relevant to the article. Remarks containing abusive and obscene language, personal attacks of any kind or promotion will be removed and the user banned. Final decision will be at the discretion of the Taipei Times.