Big changes not expected from Democrat Congress
BUSINESS AS USUAL Nothing substantially different is expected in the next two years, with the exception of a minimum wage increase and more Medicare funding
The new leaders of the US House of Representatives, the Democrats, are promoting an economic agenda that would put more money in the pockets of ordinary citizens and government, while leading to greater oversight of big business.
Democratic Representative Nancy Pelosi, who is in line to become speaker of the House of Representatives, has promised to fight early on in the next Congress to lower the price of prescription drugs available through Medicare, the federal health insurance program.
Efforts to curb military spending are also likely, political and financial analysts said, following an election whose outcome was influenced in large part by US voters' dissatisfaction with the handling of the war in Iraq.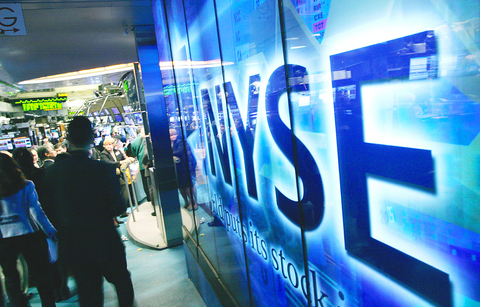 Visitors pass a sign in a hallway at the NYSE on Wednesday.
PHOTO: AP
But with the two parties stalemated in the Senate, where it usually takes 60 votes to pass major legislation, the pharmaceutical and defense industries may find themselves beset more by unwelcome rhetoric in Congress than any hurtful changes in law. The Democrats won a slim majority with 51 of the Senate's 100 seats.
To be sure, few major changes in the corporate world are expected to result from Democrat-led initiatives over the next two years -- with the exception of a proposed increase in the minimum wage that may get substantial Republican support.
The long-term outlook for companies in the biotechnology and homeland security businesses may benefit, analysts said, from anticipated Democratic efforts to promote stem-cell research and inspect more cargo containers at ports. And the alternative energy sector could also get a boost.
But heightened scrutiny of other sectors, ranging from drugs to defense to hedge funds, could darken their prospects on Wall Street.
"The drug industry is on the top of the list of industries that would be uncomfortable if Democrats are successful in the elections," said Ira Loss, an analyst at Washington Analysis.
That is because Pelosi has promised legislation that would allow the government to negotiate directly with drug companies to purchase medicines for Medicare, a process the drug industry equates to price controls.
Shares of Pfizer Inc fell 43 cents on Wednesday to close at US$26.62 on the NYSE, where shares Eli Lilly & Co. declined by US$0.50 to US$56.48. Shares of Merck & Co fell US$1.56 to finish at US$44.34, mostly because of Merck's disclosure late on Tuesday that liabilities from tax disputes could total US$5.58 billion.
The Dow Jones industrials rose 19.77, or 0.16 percent, to 12,176.54. The blue chips closed above the record of 12,167.02 set on Oct. 26 and came within a few points of a record trading high of 12,196.32 reached on Tuesday.
Broader stock indicators also advanced. The Standard & Poor's 500 index was up 2.88, or 0.21 percent, at 1,385.72, and the NASDAQ composite index rose 9.06, or 0.38 percent, to 2,384.94.
Pelosi has pledged that Democrats would move to raise the minimum wage -- a policy change that could affect fast-food restaurants such as McDonald's Corp, as well as other retailers.
Ballot measures that mandate increases in existing state minimum wage laws passed in Arizona, Missouri and Montana, among other states. Alaska voters, meanwhile, helped protect the pockets of big oil by shooting down a proposal to increase drillers' taxes by US$1 billion a year.
Generally speaking, Democrats have said they will differ from Republicans by being tougher watchdogs of corporate wrongdoing and government spending and bigger defenders of consumers and labor unions.
Still, "there are not going to be wholesale changes in economic policy" because neither party has an overwhelming majority in either the House or Senate and this may explain the stock market's recent strength, according to Wachovia Securities economist Mark Vitner.
Comments will be moderated. Keep comments relevant to the article. Remarks containing abusive and obscene language, personal attacks of any kind or promotion will be removed and the user banned. Final decision will be at the discretion of the Taipei Times.