WTO membership to cut both ways
Banking on new business after Vietnam joins the WTO, electrical appliance maker REE Corp added a new office tower to Ho Chi Minh City's burgeoning skyline. But it's also bracing for an onslaught of competition from global giants like Toshiba and Samsung.
For REE Corp and for Vietnam, WTO membership will cut both ways.
"Joining the WTO will create a lot of opportunities," said Nguyen Thi Mai Thanh, the company's general director. "But it will also present strategic challenges."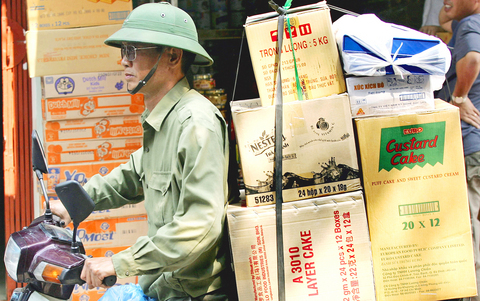 A retail trader leaves a shop on a motorcycle loaded with boxes in downtown Hanoi yesterday. Vietnam is set to become the 150th member of the WTO today after 20 years of market reforms that have made the country one of Asia's fastest growing economies.
PHOTO: AFP
WTO members are expected to approve Vietnam's entry today, bringing to an end 10 years of negotiations with the communist country, which has recently begun accelerating its pace of market reforms. The deal will take effect 30 days after Vietnam's National Assembly approves it, which it is expected to do swiftly.
Today's vote is well timed, coming just days before Hanoi will be in the spotlight hosting the APEC summit, which will draw leaders from 21 countries and thousands of business executives from around the world.
WTO membership will give Vietnam increased access to foreign markets and the opportunity to take trade grievances to a neutral arbiter, strengthening its hand against nations that accuse Vietnam of illegally dumping goods on their markets. In return, the country will be required to drop its high tariffs on foreign imports and eliminate subsidies for state-owned companies.
Foreign companies will enjoy far greater access to Vietnam's economy, which has averaged 7.5 percent growth over the last decade, one of fastest rates anywhere in the world.
Many Vietnamese businesses, especially garment makers, are excited about new export opportunities. Others, like REE Corp, are eager to supply goods and services to foreign companies that come to Vietnam.
But some businesses -- particularly in banking, insurance and financial services -- also worry about the new competition WTO membership will bring. State-owned domestic companies, still steeped in the old central-planning mentality, will inevitably be forced to change or perish.
"Foreign competition is bitter medicine for Vietnamese enterprises, but it will help them become stronger," said Le Dang Doanh, an economist at the Ministry of Planning and Investment.
Unlike other foreign companies, US businesses may not be able to take advantage of the WTO agreement immediately because the US Congress has yet to grant Vietnam "permanent normal trade relations" (PNTR) status.
US President George W. Bush hopes a PNTR bill will be passed before he visits Hanoi for the APEC summit Nov. 18-19, but that looks unlikely.
Among other obstacles, Senator Mel Martinez, a Florida Republican, has been blocking consideration of the bill due to concerns about a Florida pro-democracy activist who is being held in a Vietnamese jail, suspected of plotting against the Vietnamese government.
The PNTR bill is expected to be approved eventually. But without it, US companies will not be able to enjoy the benefits of the WTO agreement -- unless Vietnam decides unilaterally to treat them like other member countries.
Comments will be moderated. Keep comments relevant to the article. Remarks containing abusive and obscene language, personal attacks of any kind or promotion will be removed and the user banned. Final decision will be at the discretion of the Taipei Times.