Aerospace firms flock to China show
The biggest companies in the global aerospace industry gathered yesterday for the start of China's only international air show, all vying for a slice of the booming Chinese aviation market.
The chiefs of civil and military aircraft manufacturers, parts suppliers and designers were among the thousands of delegates to the Sixth China International Aviation and Aerospace Exhibition in Zhuhai, Guangdong Province.
It is also being attended by 550 exhibitors from 33 countries and regions.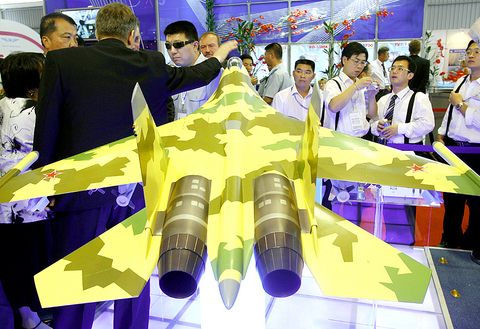 Visitors gather in front of a Russian SU-35 fighter jet model at the 6th China International Aviation and Aerospace Exhibition in Zhuhai, Guangdong Province, yesterday.
PHOTO: AP
Included in the list of exhibitors are US plane maker Boeing, its European rival Airbus Industries, French military giant Dassault Systemes and Russia's Tupolev.
Airbus China president Laurence Barron said the show offered key access to the Chinese market.
"China is a very important market for us; air traffic is doubling here every five years," Barron said. "It has already become a major market. We take China extremely seriously."
Government aviation procurement officials were also among the delegates.
"In the past, this exhibition has proved vital for us," said Awzy el Hafiz, the Egyptian government's representative at the show.
The air show will also feature demonstration flights of new aircraft from Tupolev and Cessna and a closing display by the Russian Air Force's Knights Aerobatic Team.
Notably, state-owned weapons manufacturer China Aerospace Science and Industry Corp (CASIC) will exhibit a record number of missiles and fighter jets.
The display will demonstrate "the advanced capability and level of Chinese missile weapon systems to safeguard its territorial air, sea and land," CASIC said in a statement.
One of the highlights of the show is expected to be China's most advanced fighter-pilot trainer -- the Shanying, or Mountain Eagle.
The two-seat, single-engine aircraft is capable of carrying 2,000kg weapon payloads such as short-range air-to-air missiles and rocket launchers and bombs. Daily demonstrations will be held at the show.
The much-anticipated FC-1 fighter aircraft, which China jointly developed with Pakistan, will not be on display, despite expectations.
China's rapid economic growth is fueling its fast-growing aviation market, which in turn is driving increased production of planes and engines.
Boeing Co has forecast a 7.3 percent annual growth rate in the Chinese commercial market, while Rolls Royce, the maker of airliner engines, believes it will need 2,600 new planes over the 20-year period.
Boeing has no plans to imitate rival Airbus Industrie by opening a Chinese factory, the president of Boeing China said yesterday, dismissing it as a symbolic step the US aircraft maker doesn't need to take to win orders.
"We have no plans to set up an assembly line at this time," David Wang said at the air show. "We do not believe symbolic investments lead to good business partnerships."
Boeing and Airbus are competing fiercely for market share in China. Chicago-based Boeing says it expects Chinese carriers to purchase 2,900 new planes worth US$280 billion over the next 20 years.
Airbus signed agreements last week to open a final assembly line in China, its first outside Europe, and China ordered 150 mid-size A320 aircraft to be produced there. The planes at the facility in Tianjin will be assembled from components manufactured in Europe.
Boeing is contributing to China's economy by working with Chinese parts suppliers, Wang said.
The company says it has bought Chinese-made components, including doors and wing parts, worth a total of US$730 million over the past two decades.
The company also has three Chinese joint ventures, one making advanced materials, another converting used 747 jumbo jets for use as cargo planes and the third to service aircraft.
"We have not demanded more orders" in exchange for those investments, Wang said. "But we think that because we work closely with the Chinese, we will get our fair share."|
Boeing accounts for about 60 percent of the approximately 900 aircraft in China's commercial fleets, while Airbus says its aircraft account for about 35 percent.
Chinese carriers have signed orders for 220 Boeing aircraft over the past two years, including a cargo version of its planned 777 long-range plane, due to start deliveries in 2008, Randy Baseler, Boeing's vice president for marketing, said.
Comments will be moderated. Keep comments relevant to the article. Remarks containing abusive and obscene language, personal attacks of any kind or promotion will be removed and the user banned. Final decision will be at the discretion of the Taipei Times.