Ailing Ford selling Aston Martin to raise capital
By putting British luxury car Aston Martin on the block, the ailing US auto giant Ford Motor Co is gearing up the restructuring of its global automotive business, analysts say.
Ford announced on Thursday it wants to hive off Aston Martin, the dashing sports car immortalized by fictional superspy James Bond.
The loss-making Detroit company said it wanted to free up resources for its other auto brands, and said that prospective buyers had already come forward for the legendary British marque.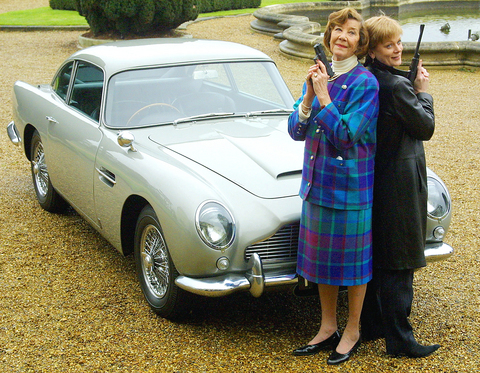 The first Miss Moneypenny, Lois Maxwell, left, and the current, Samantha Bond, pose with guns in front of a 1965 Aston Martin DB 5 driven by Pierce Brosnan in Goldeneye during a press viewing on Feb. 2, 2001. Troubled US auto giant Ford Motor Co said on Thursday it is looking to sell the prestigious British sports carmaker.
PHOTO: AFP
Chairman and chief executive Bill Ford said that Aston Martin had "flourished" since it became part of the US group in 1986, "which is why we believe it is prudent to consider a sale of all or part of this prized brand."
Bill Ford said the British unit's dealer network, products and size were all distinctly different from other Ford brands, making it "the most logical and capital-smart divestiture choice."
Any sale would enable Ford "to efficiently raise capital for its other brands," Bill Ford added.
While Ford does not break out the profit and loss statement for individual brands, company officials made a point of stressing that Aston Martin is profitable.
Ford has not yet decided on the future of Aston Martin's stablemates in the company's Premier Automotive Group (PAG), including luxury carmaker Jaguar, Bill Ford added in a statement.
"However, we continue to be encouraged by Jaguar's progress and by the strength and consumer appeal of the Jaguar, Land Rover and Volvo product lineups," he said.
Analysts saw the spinoff of Aston Martin as a relatively simple move to advance the company's battle to revamp operations as it suffers hefty losses in income and market share.
Jack Nerad of Kelly Blue Book, which collects data on car sales, said putting Aston Martin up for sale first makes sense because it is relatively independent of other Ford units.
"Its an island unto itself," he said.
Brett Smith, a senior industry analyst at the Center for Automotive Research (CAR) in Ann Arbor, Michigan, also saw the structural logic of the spinoff.
"If you look at the PAG group, Aston Martin is the least truly integrated into the Ford system in terms of the dealer network and all that goes with it," Smith said.
"Some potential buyer with the right financial backing could come in and create a unique brand that is profitable," he said.
"That's harder for some of the other PAG brands like Jaguar or Volvo, because they're so much intertwined with the rest of the Ford group," he said.
Analysts said there were rumors of Chinese and South Korean interest in Aston Martin. Smith suggested privately backed equity groups were more likely to make a move than large automakers like Volkswagen or Honda.
"Anybody who does this is going to buy the prestige. For an Asian manufacturer, it would give them immediate name recognition and the chance to approach a market that, with their low costs, they could do very well in," Smith said.
But he warned of image pitfalls in a non-European acquisition.
"If it's a European or British-led buyout, the marque keeps its name. If it goes elsewhere in the world, you lose that heritage. That's a serious risk," he said.
"Whether a buyer of an Aston Martin would be happy to be buying effectively a Chinese car remains to be seen," he added.
Smith also predicted that Ford would not be in the driver's seat in the sale.
"Ford is going to get less than it's probably worth, certainly less than they've put into it over the years. Buyers know that Ford's in trouble and are going to drive a pretty hard bargain," he said.
Comments will be moderated. Keep comments relevant to the article. Remarks containing abusive and obscene language, personal attacks of any kind or promotion will be removed and the user banned. Final decision will be at the discretion of the Taipei Times.