Chilean miners conclude strike at BHP Billiton
Chilean miners voted late on Thursday to end their 25-day strike for higher pay at La Escon-dida, the world's largest copper mine, a top union official said.
In a secret ballot that lasted more than six hours, the workers accepted the union leaders' contract agreement with the executives of the mine, controlled by the Anglo-Australian mining giant BHP Billiton.
On a 1,607-121 vote, with one blank ballot, workers agreed to return to work, said Pedro Marin, the union secretary and spokesman.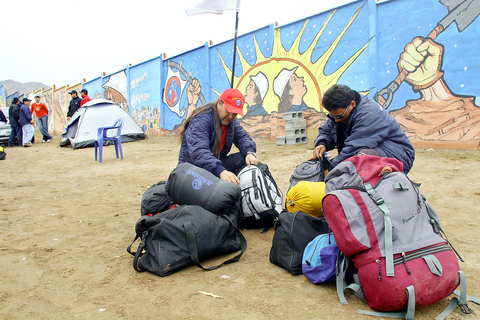 Two miners pack up their belongings after a 25-day strike for higher pay at the world's largest copper mine, La Escondida, in northern Chile on Thursday.
PHOTO: AFP
The new contract was to be signed yesterday and provides for a 5 percent wage increase and a US$16,600 signing bonus for the 2,052 miners.
The union had asked for an 8 percent pay increase, while the company offered 4 percent plus an US$18,000 one-time signing bonus -- an offer the miners overwhelmingly rejected.
"We are satisfied. This is how the rank and file express themselves, through the ballot box," Marin said.
"We will resume our duties within some hours, as we agreed in the pact with the company," he said.
La Escondida, located in the Atacama desert some 1,300km north of the capital Santiago, produces eight percent of the world's copper, or 1.3 million tonnes a year.
Rising copper prices helped trigger the strike on Aug. 7 after the expiration of a union contract negotiated three years ago when copper brought US$0.80 a pound; it now brings US$3.
The price rise meant that during the first half of the year the mining company earned US$2.9 billion, triple what they made a year before.
"I don't know the terms of the deal, but I'm glad that the company management and the union leadership solved the problem in a form satisfactory to both sides," Mining Minister Karen Poniachik said in Santiago.
While noting it was a conflict between private parties, the government of Chilean President Michelle Bachelet kept a close watch on the strike, at one point offering to help mediate a solution.
During the strike, BHP Billiton claimed each unproductive day at the mine cost it some US$16 million.
Comments will be moderated. Keep comments relevant to the article. Remarks containing abusive and obscene language, personal attacks of any kind or promotion will be removed and the user banned. Final decision will be at the discretion of the Taipei Times.