A380 superjumbo delayed again
SUPER SLO-MO Singapore Airlines, the first customer for the 555-passenger aircraft, will hold talks with Airbus over the delay and also possible compensation
Singapore Airlines may seek compensation from Airbus for yet another delivery snag for its A380 superjumbo, a day after the European manufacturer announced delays for the jet's rollout, an official said yesterday.
Singapore Airlines was the first carrier to buy the US$300 million superjumbo, ordering 10 of the double-decker jets, with an option to purchase another 15.
Airbus had previously said it would deliver two of the jets before the end of the year. But on Tuesday, the European maker said deliveries of its 555-passenger aircraft could be delayed by up to seven months due to production line bottlenecks.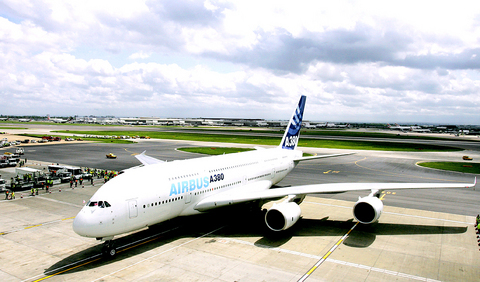 An Airbus A380 airplane arrives at Heathrow Airport in London on May 18. The European manufacturer informed its customers on Tuesday of a new delay of 6 to 7 months on delivery of its A380 superjumbo for ``industrial reasons.''
PHOTO: AFP
Total deliveries next year will likely be limited to nine, with an additional shortfall of five to nine A380 deliveries expected in 2008 and "around five" in 2009, Airbus said on Tuesday.
Singapore Airlines will still receive its first A380 this year, though the delivery could be delayed by a few weeks, an airline spokesman told Dow Jones Newswires, requesting anonymity in line with company policy.
The airline plans to discuss the delay, as well as possible compensation, with Airbus, the person said.
Korean Air said yesterday it would proceed with a US$1.4 billion contract to buy five A380 superjumbo jets from Airbus despite delays in delivery of the world's largest passenger plane.
"We'll proceed with the deal. Every detail of our business plan is already in place in line with the introduction of the new aircraft," said Shin Jin-chul, a spokesman for Korean Air.
He said Airbus had recently said that the delivery of the first of the five aircraft ordered would be delayed three months to February 2008 and that a second plane would be delayed two months until March 2008.
Korean Air hopes the remaining three jets will arrive in March, April and May 2010, but it is not yet known whether these jets would be delayed too, he said.
He declined to comment on whether the company would seek compensation from Airbus.
Korean Air signed a contract in October 2003 to buy up to eight A380 aircraft from Airbus over the next 10 years.
Under the contract, Korean Air would buy five A380 aircraft immediately and would have an option to buy three more. Each plane costs US$275 million.
Airbus commercial director John Leahy said the problem lay with the manufacture and installation of wiring connections between sections of the fuselage, adding that "there will be late fees paid to clients."
Comments will be moderated. Keep comments relevant to the article. Remarks containing abusive and obscene language, personal attacks of any kind or promotion will be removed and the user banned. Final decision will be at the discretion of the Taipei Times.