Oil prices ease as US facilities recover
`OUT OF GAS' In possibly the first offer of petroleum aid in the wake of Hurricane Katrina, Japan said that it might release some of its strategic oil reserves to the US
Crude oil prices eased yesterday and gasoline futures fell for the first time in a week as several energy facilities on the US Gulf Coast started up again after Hurricane Katrina. Japan, meanwhile, said it was considering releasing some of its strategic stockpiles to meet shortages in the US.
But in an ominous sign, crude oil contracts from November through February -- traditionally high-demand months -- were all trading above US$70 a barrel amid worries that Katrina had all but wiped out the world's already small cushion of excess refining capacity.
And in the US, a small but growing number of service stations had to hang up "Out of Gas" signs.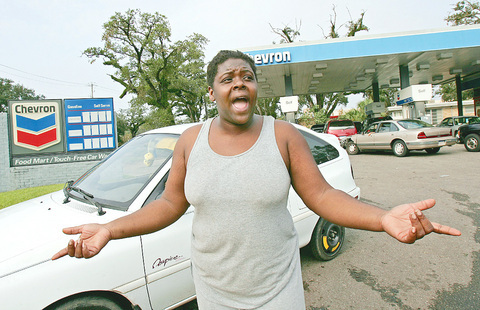 Rosemary Davis expresses frustration after waiting four hours for gasoline and being turned away because the generator to the pumps failed on Thursday in Mobile, Alabama. Hurricane Katrina has shut down 10 percent of US refinery capacity at a time when oil facilities were already straining to cope with booming summer demand.
PHOTO: AFP
The front-month October light, sweet crude contract on the New York Mercantile Exchange fell US$0.42 to US$69.05 a barrel midafternoon in Singapore yesterday. The contract rose US$0.53 in New York floor trading to close at US$69.47, after earlier reaching its all-time high of US$70.85 on Aug. 30.
Gasoline futures fell US$0.06 to US$2.3405 a gallon (3.8 liters), but is still twice the price from last year. On London's International Petroleum Exchange, October Brent fell US$0.45 to US$67.27 a barrel.
Axel Busch, an analyst at Energyintel based in London, said the temporarily halted flow of crude oil from the Middle East to the US Gulf of Mexico coast may have all but "wiped out" the world's daily excess capacity of around 1.5 million barrels that is used to offset any unplanned production outage.
"It may also have pushed the world a step further to the edge between marginal supply surplus and shortage," Busch said. "The world's crude comfort cushion has in reality disappeared."
"With continuing strife and tension in several of the world's oil producing hot spots, including Nigeria, Iraq and elsewhere in the Middle East, it would take only relatively minor supply disruptions, or another hurricane, to tip the market over the edge," he added.
Some fuel pipelines began restarting operations yesterday, but the product remains in short supply after Hurricane Katrina shut down nine Gulf Coast refineries, disrupted gasoline pipelines to the Midwest and East and stopped 90 percent of the oil production in the Gulf of Mexico.
The Gulf is responsible for around 30 percent of US crude production and quarter of its gas. A large portion of US oil imports also arrive at Gulf Coast ports.
The US federal Minerals Management Service said the percentage of oil offline in the Gulf of Mexico was around 90 percent of total output while gas around 79 percent of total daily production. Total lost oil output since Aug. 26 was 7.44 million barrels.
US President George W. Bush agreed earlier this week to tap the US Strategic Petroleum Reserve. ExxonMobil Corp has received a 6 million barrel loan from the emergency stockpile, Dow Jones Newswires reported yesterday.
Japan said it might release some of its oil reserves to the US in what could be the first offer of petroleum aid in the wake of the hurricane disaster.
The Ministry of Economy, Trade and Industry said it had received a call exploring this option from the Paris-based International Energy Agency, a Paris-based oil market watchdog under the Organization for Economic Cooperation and Development.
Japan has one of the largest petroleum reserves in the world, with 320.7 million barrels as of June 30.
Panic buying and delayed gasoline deliveries sparked shortages at a number of gas stations across the US, mostly along the East Coast and in Midwest states. Station owners said many of the shortages were temporary.
Comments will be moderated. Keep comments relevant to the article. Remarks containing abusive and obscene language, personal attacks of any kind or promotion will be removed and the user banned. Final decision will be at the discretion of the Taipei Times.