Toyota, GM to ally on fuel-cell vehicles
CARS OF THE FUTURE The two automakers said after talks that they would step up their research and development partnership on the innovative models
Toyota and General Motors have agreed to boost their alliance on fuel-cell vehicles after talks between the chiefs of the world's two biggest carmakers, reports said yesterday.
GM chairman Richard Wagoner met with Toyota Motor president Fujio Cho on Saturday at the company's headquarters in the central Japanese city of Toyota.
The talks came amid speculation Toyota might offer some "help" to GM, which incurred its biggest quarterly net loss in 13 years. In contrast, Toyota said last Tuesday it posted record annual sales and profits on robust global sales.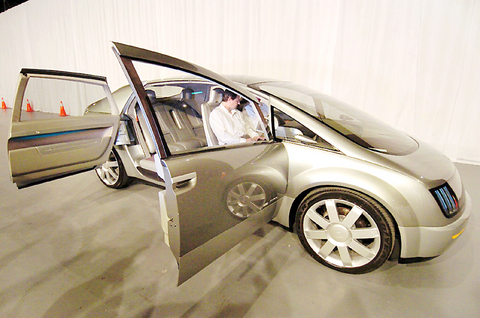 The new General Motors Holden hydrogen powered car called the ``Hy-wire'' on display in Sydney last year. The Hy-wires' fuel-cell propulsion system is housed entirely in an 11-inch thick skateboard-like chassis.
PHOTO: EPA
At the meeting, Wagoner and Cho agreed to strengthen their cooperation on research and development of fuel-cell cars, which are powered by electricity generated from oxygen and pressurized hydrogen gas, Japan's top-selling daily Yomiuri Shimbun said.
To ease high development costs of the fuel-cell cars, Toyota and GM were considering setting up a joint venture for such vehicles, the Yomiuri said.
The Sankei Shimbun newspaper said the two automakers would come up with details on the joint venture as early as the end of this year.
Toyota, which ranks second in the world to GM, is also ready to cooperate with the US auto giant in the area of gasoline-electric hybrid vehicles, the Yomiuri said.
Hybrid cars are equipped with an electric motor and a standard petrol engine, making them much more economical and environment-friendly than conventional gasoline engines. Toyota's Prius, the world's first mass-produced hybrid car, emits 50 percent less carbon dioxide than a regular car with an engine size of 1.8 liters.
Toyota and GM began their cooperation on research and development in environmental auto technologies in 1999.
Comments will be moderated. Keep comments relevant to the article. Remarks containing abusive and obscene language, personal attacks of any kind or promotion will be removed and the user banned. Final decision will be at the discretion of the Taipei Times.