Prices surge after US oil refinery blast
PRICE SPIKE Crude oil and gas prices hit record highs after a deadly explosion at the US refinery, but the surge signals only a temporary stall in declines, analysts say
Crude oil rose and gasoline futures surged to a record after an explosion at BP Plc's Texas City refinery, the third-largest in the US, raised concern supply may be disrupted before the summer driving season.
At least 14 people died and more than 70 were injured by the blast, BP refinery manager Don Parus told reporters in Texas City, Texas, yesterday. The refinery can process 460,000 barrels of oil a day and supplies some 3 percent of the US' fuel.
"It's a big deal, as we're heading into the gasoline season," said Anthony Nunan, manager of the international oil-trading business at Mitsubishi Corp in Tokyo. Gasoline "is leading the oil complex right now, even though inventories are high."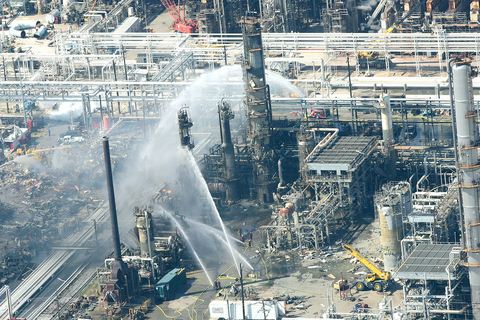 Firefighters pour water onto a smoldering unit following an explosion at the BP oil refinery Wednesday, in Texas City, Texas. The explosion killed at least 14 people and injured more than 100 and sent flames and black smoke billowing into the sky, authorities said.
PHOTO: AP
Crude oil for May delivery rose 1.3 percent, or US$0.67, to US$54.48 in after-hours electronic trading on the New York Mercantile Exchange at 4:25pm Singapore time. It earlier rose as much as US$0.69, or 1.3 percent, to US$54.50 a barrel.
Gasoline for April delivery jumped as much as 2.1 percent to US$1.6080, the highest since the contract began trading in 1984, and traded US$0.301 higher at US$1.6050 at 3pm Singapore time.
But the refinery blast will only temporarily stall the decline in crude oil prices, said Mike Armbruster, co-founder of Altavest Worldwide Trading Inc in Laguna Hills, California.
The refinery explosion at around 1:20pm local time occurred in a unit that makes components that boost octane in gasoline, the company said.
"It's a monster of a refinery," said Ed Silliere, vice president of risk management at Energy Merchant LLC in New York. It would be "the wrong time for us to be seeing the loss of this unit as we get set to go into the gasoline season."
The blast stemmed a 6.3 percent slide in crude oil prices in the past two days. Crude oil for May delivery rose to a record US$58.16 a barrel on March 17, amid concerns demand was rising faster than supplies.
Comments will be moderated. Keep comments relevant to the article. Remarks containing abusive and obscene language, personal attacks of any kind or promotion will be removed and the user banned. Final decision will be at the discretion of the Taipei Times.