Teenage girls fuel US `manga' mania
The Incredible Hulk and Spider-Man are confronting new rivals in the US comic book world, as young Americans are devouring Japan's manga comics depicting wandering samurai and cheeky Tokyo schoolchildren.
Linda Pfeiffer, 15, never got hooked on her brother's comic books, which glorify muscular heroes complete with superpowers. Instead, she is absorbed by Japanese comic book characters to whom she can relate, "even if they live far away from here."
Unlike US comics, "manga don't always have a happy ending," Pfeiffer added as she scoured a Washington area comic book store.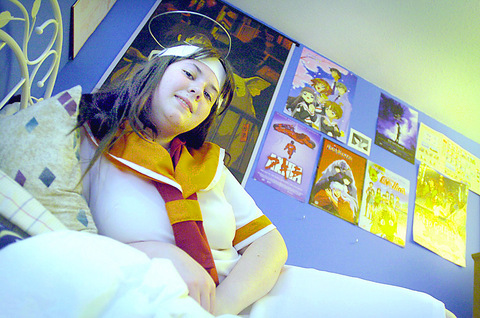 Jenna Leary, 18, sits dressed as a ``shojo manga`` character in her home in Berkley, Massachusetts, in June last year, with related posters pasted on the wall behind her. The popularity of ``manga'' among teenage girls has helped to significantly boost the growth of this segment of the US publishing industry.
PHOTO: NY TIMES
Thanks to enthused American teenagers such as Pfeiffer, manga is one of the fastest growing segment of the [American]publishing industry," said Milton Griepp, founder of ICv2, a research organization on the animation industry.
Manga, literally "random sketches" is the term for the genre of narrative comic strips, often series, read by millions of Japanese. Thousands of new titles on themes ranging from samurai, golf, yakuza gangsters, fantasy superheroes, sex and social satire are published each year.
In the US, sales soared to between US$110 million and US$140 million last year from US$60 million in 2002, Griepp said.
Book stores have expanded their comics sections to accommodate the growing demand.
"Japanese pop culture has a lot of exposure in the US, on TV with anime, with video games and now manga," he said.
The best-selling manga last year was Rurouni Kenshin, which depicts the religious and war rituals of 19th century samurai.
The manga follow the popularity in the US of the cartoons Pokemon, Dragon Ball and Yu-Gi-Oh.
The success of manga is surprising since they mainly refer to Japanese culture and are created for Japanese readers.
American girls have helped make manga successful in this country, representing between 50 to 60 percent of the readership, Griepp said.
They are avid readers of shojos -- manga mainly created for girls. These comics mix realistic stories about school, family, friendship and love, with fantasy.
One of the most popular shojo series, called Fruits Basket, tells the story of Tohru Honda, an orphaned student adopted by a family hit by a curse.
"Female readers in the United States have strongly demonstrated that manga is now a medium to be enjoyed by both sexes," said Liza Coppola, vice president of sales at Viz, one of two big manga publishers in the US.
Viz's rival TokyoPop released last year a manga co-created by rock singer Courtney Love, the widow of Nirvana singer Kurt Cobain. Princess Ai is the story of a girl who becomes a music star and escapes assassins.
"I have always loved the Japanese culture and the people," Love said. "Princess Ai is a great character because she feels like my alter ego, but in a fantasy setting."
Comments will be moderated. Keep comments relevant to the article. Remarks containing abusive and obscene language, personal attacks of any kind or promotion will be removed and the user banned. Final decision will be at the discretion of the Taipei Times.