OPEC mulls delaying decreases in production
PRICE CONTROL At a meeting being held in Vienna, members of the cartel are considering delaying output reductions as the price of oil closes in on US$50 a barrel
The Organization of Petroleum Exporting Countries, which agreed to reduce output by 4 percent last month, may postpone further reduction plans at a meeting in Vienna as prices return close to US$50 a barrel. \n"Fifty dollars a barrel is not the time to be expecting another cut in production," said Daniel Yergin, the chairman of Cambridge Energy Research Associates and Pulitzer-Prize winning author of The Prize: The Epic Quest for Oil, Money & Power. He spoke in an interview yesterday in Davos, Switzerland. \nMinisters from Kuwait, holder of the OPEC presidency, the United Arab Emirates, Iran, Venezuela and Indonesia this week all said OPEC should maintain the current quotas. The Saudi oil minister, Ali al-Naimi, in Davos, yesterday declined to comment on prospects for the Jan. 30 Vienna meeting. The 11-member group pumps more than a third of the world's oil. \nOPEC will gather after the output cuts and cold weather in Europe and the US caused New York oil to reach US$49.75 a barrel this week, up 44 percent from a year earlier. The International Monetary Fund in November lowered its forecast for world economic growth this year to 4 percent, from 4.3 percent, citing oil. \nCrude oil for March delivery rose as much as 40 cents, or 0.8 percent, to US$49.18 a barrel in after-hours electronic trading on the New York Mercantile Exchange. It traded at US$48.92 a barrel at 12:21pm Singapore time. \nOPEC this month has lowered output by 800,000 barrels a day to 29.6 million a day, according to estimates from Geneva-based consultant PetroLogistics Ltd, which assesses supply by tracking tankers. OPEC forecasts that members need to pump 27.7 million barrels a day in the second quarter to meet demand, almost 2 million less than current output. \nKuwaiti oil minister and OPEC president Sheikh Hamad Fahd al-Sabah said the group may have to reduce output at its next meeting, in March in Iran, the state-run Kuwait News Agency said yesterday. \n"The question is when do they act," said Roger Diwan, managing director at the Washington-based energy consultant PFC Energy. \nHe said a reduction of 1 million to 1.5 million barrels a day may come in the second quarter to balance supply and demand. \nThe group at the Vienna meeting may announce a supply cut that starts April 1, subject to a confirmation in March, Diwan said. \nIraqis go to the polls on the same day as the OPEC meeting for the first national elections since the US-led overthrow of former president Saddam Hussein. Car bombings and kidnappings targeting Iraqis participating in the election have increased in recent weeks. \nIraq's oil production averaged 2 million barrels a day last year. \n"It doesn't look like the insurgents have any intention of stopping," said Adam Sieminski, an oil strategist at Deutsche Bank AG in London. \n"In the short run, what the Iraqi government and oil ministry would like to do is just keep production somewhere in the range of 2 million to 2.5 million barrels a day," he said.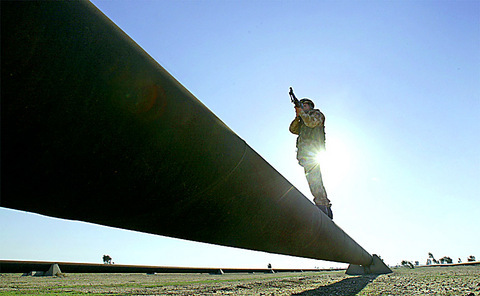 A member of the British army Princess of Wales Regiment climbs over an oil pipe during patrols around oil fields in Basra Province, southern Iraq, Wednesday.
PHOTO: AFP
Comments will be moderated. Keep comments relevant to the article. Remarks containing abusive and obscene language, personal attacks of any kind or promotion will be removed and the user banned. Final decision will be at the discretion of the Taipei Times.