US repeats pleas to stop China piracy
PATENTS US commerce chief Donald Evans' usual demands were met by a more assertive China, impatient to have its own trade concerns addressed
Donald Evans ended his fourth and final visit to Beijing as the US secretary of commerce on Thursday with the same demand he brought on three previous visits in the last three years: that China strengthen its protection of copyrights and patents. \nEvans' contention that China must do more to stamp out the unlicensed reproduction of software, industrial designs, drugs and other patented products has been a mantra of his visits to Beijing. This time, however, the courteous reception he has always received was mingled with signals of a more assertive China, impatient to have its own trade concerns addressed. \nThose signals included a jocular but public swipe in front of television cameras on Wednesday by China's Commerce Minister Bo Xilai (薄熙來), who awarded Evans 7 marks out of 10 for his tenure, a grudging approval in China. Bo stressed his disappointment that the US had refused a formal recognition of China as a market economy. \nEvans said in prepared remarks on Thursday that the issue of China's commercial practices was "straining our trading relationship." \n"It's time for China's leaders to forcefully confront the problem" posed by the theft of intellectual property rights, he said. \nUS trade officials, lawyers and companies generally agree that the message has not fallen on entirely deaf ears, and that China has developed an impressive arsenal of laws and rules to fight industrial piracy. But they also say those weapons are rarely used, and piracy remains as widespread in China as it was four years ago, if not more so. \n"The facts are that piracy and counterfeiting in China continues to increase," Evans said in an interview. \nHe raised the example of the QQ, a mini-car made by the Chinese company Chery that GM Daewoo, General Motors' South Korean operation, contends is a clone of its Chevrolet Spark design. Late last year, GM Daewoo announced it was suing Chery. The similarity between the two cars "defies innocent explanation," Evans said at a news conference on Thursday. \nEstimates vary wildly of how much of China's industrial production involves unlawful copies of patents, trademarks and copyright. The Development Research Center, a Chinese government policy research institute, estimated in 2003 that the value of pirated goods made in China was US$19 billion to US$24 billion a year. \nChinese officials said they were fighting commercial piracy more vigorously. They also said that the US must accept that China is a huge, developing country where any change takes time. \nAs in his previous visits, Evans and his staff stopped short of explicitly threatening to lodge a complaint against China's commercial piracy with the World Trade Organization, but held open that possibility. \n"Without trying to raise speculation, there comes a point where we have to exercise our rights," said Grant Aldonas, the under secretary of commerce in charge of international trade.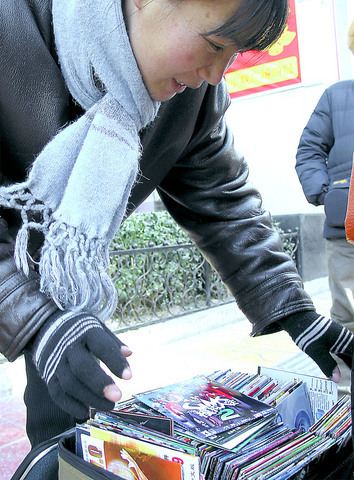 A Chinese vendor displays her collection of pirated DVD movies along a street in Beijing on Thursday. US Secretary of Commerce Donald Evans erepeated calls on China to step up its protection of copyrights and patents.
PHOTO: AFP
Comments will be moderated. Keep comments relevant to the article. Remarks containing abusive and obscene language, personal attacks of any kind or promotion will be removed and the user banned. Final decision will be at the discretion of the Taipei Times.