Apple seeks budget buyers looking for smaller bytes
TINY PACKAGES The Mac mini and the iPod shuffle are targeted at PC users who haven't been willing to pay more for an Apple
Apple Computer Inc chief executive Steve Jobs introduced a cut-rate computer the size of a paperback book on Tuesday and a tiny iPod that starts at US$99 but holds far fewer songs than Apple's hard drive-based music players. \nThe new products seek to make inroads against the traditionally more affordable PC market and against lower-cost competitors to Apple's wildly popular iPod. \nThe Mac mini computers go on sale Jan. 22 and represent Apple's first foray into the budget desktop PC arena, which has been largely confined to personal computers that rely on Microsoft Corp's Windows operating system. \nSmaller than even some stand-alone external computer drives, they lack a monitor, mouse and keyboard. The 40-gigabyte Mac mini will cost US$499, an 80-gigabyte model US$599. \nThey ship with Apple's latest operating system, Mac OS X Panther, as well as the newest version of its iLife suite of digital media software programs, also unveiled on Tuesday. \n"People who are thinking of switching will have no more excuses," Jobs told devotees during a keynote speech at Macworld Expo. "It's the newest and most affordable Mac ever." \nApple has just a 3 percent share of the US computer market, and company executives say they're aiming with the Mac mini to woo PC users who may have felt Apple products were too high-priced. \n"This is also a great second or third computer in the home," said Jon Rubenstein, an Apple senior vice president. \nThe iPod shuffle, on the other hand, seeks to build on Apple's heady success in the portable music business while appealing to people seeking flash memory-based players, which are more durable and lightweight than those using hard drives for storage -- and thus better suited as exercise partners. \nThe shuffle is smaller than most packs of chewing gum. Unlike its larger cousin, the iPod mini, the shuffle lacks a display. There's a scroll wheel for the controls so stored songs can either be played sequentially or automatically shuffled in random order. \nApple is selling two versions of the iPod shuffle. The smallest model will have 512 megabytes of storage, which holds up to 120 songs, and costs US$99. A one-gigabyte version, which holds up to 240 songs, will sell for US$149. \nUntil Tuesday, the lowest cost iPod was the mini, which costs US$249 for four gigabytes -- enough to store about 1,000 songs. \nAnalysts expect the new iPods will help Apple hold its lead in the MP3 market. \n"There are plenty of people who want an iPod but haven't been able to afford the US$249 Mini, so offering these lower-priced players allows Apple to attract not just new users but those who already own an iPod but want an even smaller version," said Susan Kevorkian, an industry analyst with IDC.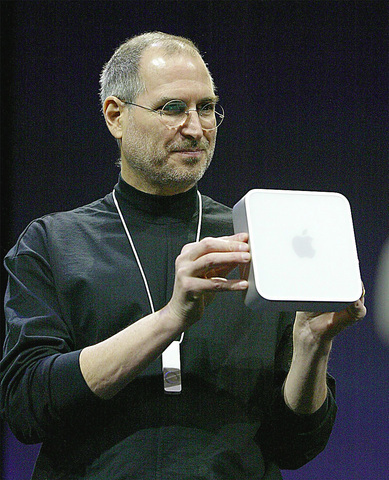 Apple Computer chief executive officer Steve Jobs introduces the iMac Mini computer, and the iPod Shuffle music player (around his neck) during his keynote speech at the 2005 Macworld Expo in San Francisco's Moscone Convention Center, on Tuesday.
PHOTO: EPA
Comments will be moderated. Keep comments relevant to the article. Remarks containing abusive and obscene language, personal attacks of any kind or promotion will be removed and the user banned. Final decision will be at the discretion of the Taipei Times.