Former Mitsubishi Motors executives say `not guilty'
ACCOUNTABILTY Two of the four defendants have said they knew about a faulty truck clutch problem, while the ex-president denied knowledge of any defects
Former top executives of scandal-hit Japanese automaker Mitsubishi Motors pleaded not guilty yesterday to a charge that they knew of defects in Mitsubishi trucks which led to a fatal accident. \nIn 2002, a 39-year-old driver was killed at Yamaguchi in western Japan after losing control of his truck, allegedly due to a faulty clutch mechanism. \nMitsubishi Motors has admitted covering up the defect but the officials leading the company at the time denied they were personally responsible for it. \n"I was not aware of any defects related to the clutch mechanism," Katsuhiko Kawasoe, 68, told the Yokohama District Court, where he faces a charge of professional negligence resulting in death. \nKawasoe was president of the fourth-largest Japanese carmaker when the accident happened, before the company spun off its truck division last year. \nTakashi Usami, 64, former chairman of Mitsubishi Fuso Truck and Bus Corp, also denied a charge of professional negligence. \n"I am not in a position to assume criminal responsibility because I was in charge of overseas affairs," Usami said. \nAt the time of the accident, Usami was vice president of Mitsubishi Motors and headed the trucking division. \nTwo other former executives, Yuzo Murata, 67, and Tatsuro Nakagami, 62, admitted that they knew about the faulty clutch. But they too argued that they could not fully accept the charges of professional negligence. \nKawasoe and other former executives allegedly covered up a defect in a Mitsubishi truck's clutch system in the late 1990s. \nBy May 1996 they learned of the defects which they believed would lead to a major accident, but decided to make repairs covertly because a full recall would have cost some ?9 billion (US$81 million), according to court documents. \nMitsubishi Fuso Truck and Bus recalled 180,000 units this year for repairs to the defective clutch system, admitting it should have done so eight years ago. \nYoichiro Okazaki, who became Mitsubishi Motors chairman and chief executive officer in April, said the company regretted the incident in Yamaguchi. \n"I once again offer my sincere regrets to the bereaved family and the prayer that the soul of the victim may rest in peace," he said in a statement. \n"The fact that concealed recall information contributed to this accident has made us realize the importance of corporate social responsibility," he said. \nLast month Mitsubishi Motors and its former executives pleaded not guilty in a lawsuit on another fatal accident, in January 2002, when a 29-year-old woman was killed and her two sons injured by a flying tire that spun off a moving trailer truck in Yokohama. \nThe former executives knew that faulty wheel hubs on Mitsubishi trucks might have caused the accident but they and the company decided to hide the fact in their report to the government, prosecutors said. \nThe truckmaker, owned by DaimlerChrysler AG, said in June it would recall about 450,000 vehicles in Japan due to 47 defects uncovered in its own probe.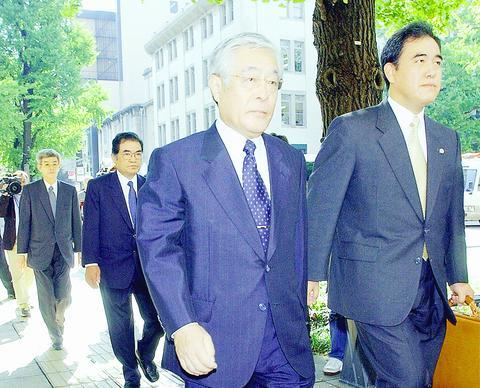 Former Mitsubishi Motors president Katsuhiko Kawasoe, center, and a lawyer, right, enters the Yokohama District Court yesterday, followed by former executives Yuzo Murata, second left, and Takashi Usami, left.
PHOTO: AFP
Comments will be moderated. Keep comments relevant to the article. Remarks containing abusive and obscene language, personal attacks of any kind or promotion will be removed and the user banned. Final decision will be at the discretion of the Taipei Times.