Viacom unlikely to suffer from CBS News scandal
ABOVE THE FRAY The network's parent company is not closely tied to the reputation of the news operation, which has hurt by disputed National Guard documents
As CBS News faces one of the worst public embarrassments in its history, experts say that the damage to the network's news division could be significant -- and costly. \nBut CBS' parent company, Via-com, is not expected to suffer much of a blow from the scandal over the National Guard documents that CBS News now concedes cannot be authenticated. Viacom, which grew out of a small chain of movie theaters that Sum-ner Redstone, its chairman, acquired from his father in the 1950s, stretches far beyond CBS, and the fate of its other businesses is not closely tied to the reputation of its news operation. \nViacom now owns a stable of cable networks, including MTV, Nickelodeon and Showtime. The company also runs the Paramount Pictures movie studio; Simon and Schuster, the book publisher; and Infinity Broadcasting, the nation's second-largest chain of radio stations behind Clear Channel Communications. It has a controlling stake in Blockbuster Video, which it is planning to spin off soon. \nThe TV division accounted for US$1.2 billion in profit, or one-third of Viacom's US$3.6 billion operating income last year, but most of that profit came from the local TV stations it owns and from advertising generated by its prime-time entertainment and other programs. \nThe national news division, whose evening news program remains stuck in third place in the ratings behind NBC and ABC, generated no more than US$100 million to US$300 million in operating profit, according to one person close to the company. \nRedstone, in a telephone interview on Tuesday evening, acknowledged that he was concerned about recent developments. \nHe said that neither he nor other top Viacom executives involved themselves in decisions inside CBS News. But he added that he had been monitoring the situation while traveling to Hong Kong, and that he had been in frequent contact with Leslie Moonves, the chairman and chief executive of CBS Television and co-president of Viacom. \nAsked whether CBS will suffer any long-term damage from the fiasco, Redstone replied: "I don't think it could negatively impact the brand." \nRedstone owns more than 200 million shares of Viacom stock, worth about US$6.7 billion, and has options on another 10 million shares. According to company documents, he filed for the right to acquire up to a million of his options and sold 341,500 shares last week for a profit of US$6.8 million. The sale, officials said, was for estate tax purposes and was not related to the troubles at CBS News. \nWhile the overall company should emerge largely unscathed, CBS News may suffer its biggest black eye, critics contend, from not admitting the error faster. \nCBS News is the latest media organization to face a credibility crisis in recent years. \nBoth The New York Times and USA Today, which is owned by Gannett, have publicly acknowledged that one of their reporters fabricated a number of articles published by the newspapers. The Tribune Co and the Belo Corp recently admitted that executives exaggerated circulation figures at newspapers. \nA different form of scandal has swirled around Martha Stewart, the founder of Martha Stewart Living Omnimedia, whose conviction for lying to investigators about a stock trade has badly damaged the value of her company's stock. \nIn coming to terms with those scandals, the companies that fared best with consumers and advertisers were fast to face their problems and establish safeguards. \n"For CBS this is a body blow, but these brands are resilient," said Alex Jones, director of the Joan Shorenstein Center on the Press, Politics and Public Policy at Harvard University. \nLike Martha Stewart Living and its founder, the biggest challenge facing CBS News is that it is so closely identified with Dan Rather, its prime-time anchor. \nBut what damaged Stewart's company, experts said, was in part her continued insistence that she did nothing wrong. By contrast, Rather, perhaps belatedly, has now acknowledged he made a mistake. \nFor Viacom, the controversy has had little direct impact on the company's stock, which has tumbled this year largely because of a weak advertising market.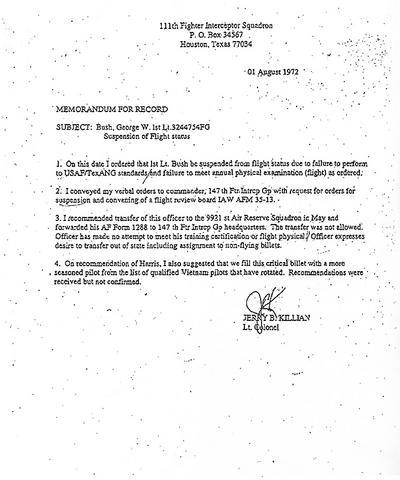 Eleven days after questions surfaced about a CBS report which impugned President George W. Bush's National Guard service, the network said it could not vouch for the authenticity of documents used in the report, one of which is seen here.
PHOTO: AP
Comments will be moderated. Keep comments relevant to the article. Remarks containing abusive and obscene language, personal attacks of any kind or promotion will be removed and the user banned. Final decision will be at the discretion of the Taipei Times.