Canadian dynasty falls out over deal
TROUBLE BREWING Not everybody in the Molson family is pleased with the merger with Colorado-based Coors because it gives the US company the top jobs
One of Canada's wealthiest and most upper-crust families, the Molson brewing dynasty, has fallen out in spectacular fashion over the prospect of Montreal's archetypal beer falling into US hands.
Molson, which has been under family control since its establishment in 1786, on Thursday agreed a merger with Colorado-based Coors to create the world's fifth largest brewer, with annual sales of more than $5 billion.
The deal was negotiated by the company's chairman, Eric Molson. But it could be scuppered by a rival proposal from his cousin, Ian Molson, who is putting together a US$4 billion bid which would keep the business north of the border.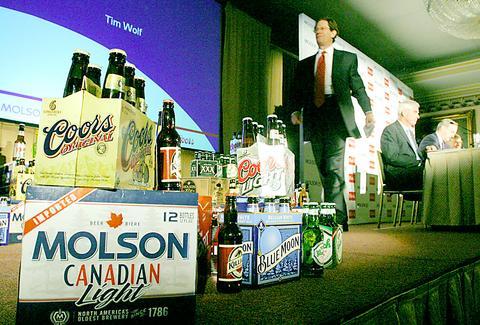 Coors and Molson products decorate the stage as Timothy Wolf, Coors chief financial officer, left, approaches the podium during a press conference announcing the merger of the Adolph Coors Co and Molson on Thursday in New York.
PHOTO: AP
Beers such as Molson Dry and Molson Export are available around the world. But the brewer's success is built on sales in its home market, where it has traditionally played heavily on patriotism.
Molson refreshed flagging sales during the 1990s with the slogan "I am Canadian" and has made much of the beer as the choice of "Joe Canada."
Molson's board says it needs a big merger to keep up with the marketing muscle of rapidly consolidating international rivals, such as Interbrew, SABMiller and Anheuser-Busch, which are turning their beers into global brands.
The group's chief executive, Daniel O'Neill, said the proposed all-share deal with Coors was a merger of equals which would create annual savings of US$175 million.
"It's a very exciting day for Molson and for the future of the company," he said. "We're moving to global brewer status without the debt of an acquisition."
But critics complain that the agreement gives Coors effective control by handing the US company the positions of both chief executive and finance director in the combined organization.
To fund his rival bid, Ian Molson claims to have lined up an unnamed Canadian institution which will provide finance of at least US$1 billion.
But analysts said his offer could face a potential "poison pill." Molson makes a quarter of its profits from a deal allowing it to distribute Coors' products in Canada. If a rival takeover is successful, Coors could terminate the deal, citing a change of ownership.
The public spat is a rare and unwelcome foray into the limelight for the low-profile Molson family.
One biographer said family members generally took the view that their names should appear in the press only three times in their lives -- recording their births, marriages and deaths.
Unrest has been fermenting for months. Ian Molson, a 49-year-old former Wall Street investment banker, quit the board at this year's annual meeting alongside several other family members who were disgruntled with strategy.
Molson's board was cut at the meeting from 15 members to 10. Among the remaining members is the former Telegraph managing director Dan Colson, who narrowly survived an attempt by investors to vote him out in protest at his links with the discredited newspaper baron Lord Black.
Critics of the company say a takeover two years ago of a Brazilian brewer, Kaiser, has proved to be a financial disaster. In its home market, Molson has been losing share to cheaper beers.
Comments will be moderated. Keep comments relevant to the article. Remarks containing abusive and obscene language, personal attacks of any kind or promotion will be removed and the user banned. Final decision will be at the discretion of the Taipei Times.